We chose the Balkan Peninsula as our holiday destination in 2021. Croatia is close to us, we have already been there twice on vacation. It is a country that many people consider to be more Western than Eastern European. This time, however, the curiosity about cultures, architecture and nature led us to Albania. For two weeks of the Balkans trip we visited the aforementioned Croatia, Bosnia and Herzegovina, Montenegro and Albania. Each of these countries was unique in its own way and we believe it is worth visiting again.
A sprint to Croatia
Packed up to the roof (and on the roof) for our Balkans trip, we started our trip from the hometown of Czarek, Szczecin. Initially, the schedule was quite tight. We had a day and a half to get to an electronic music festival on the island of Pag. So 1,500 km through Germany, Austria and Slovenia. We did not travel the route in one row and decided to take a nap in a parking lot in Croatia, right after crossing the border.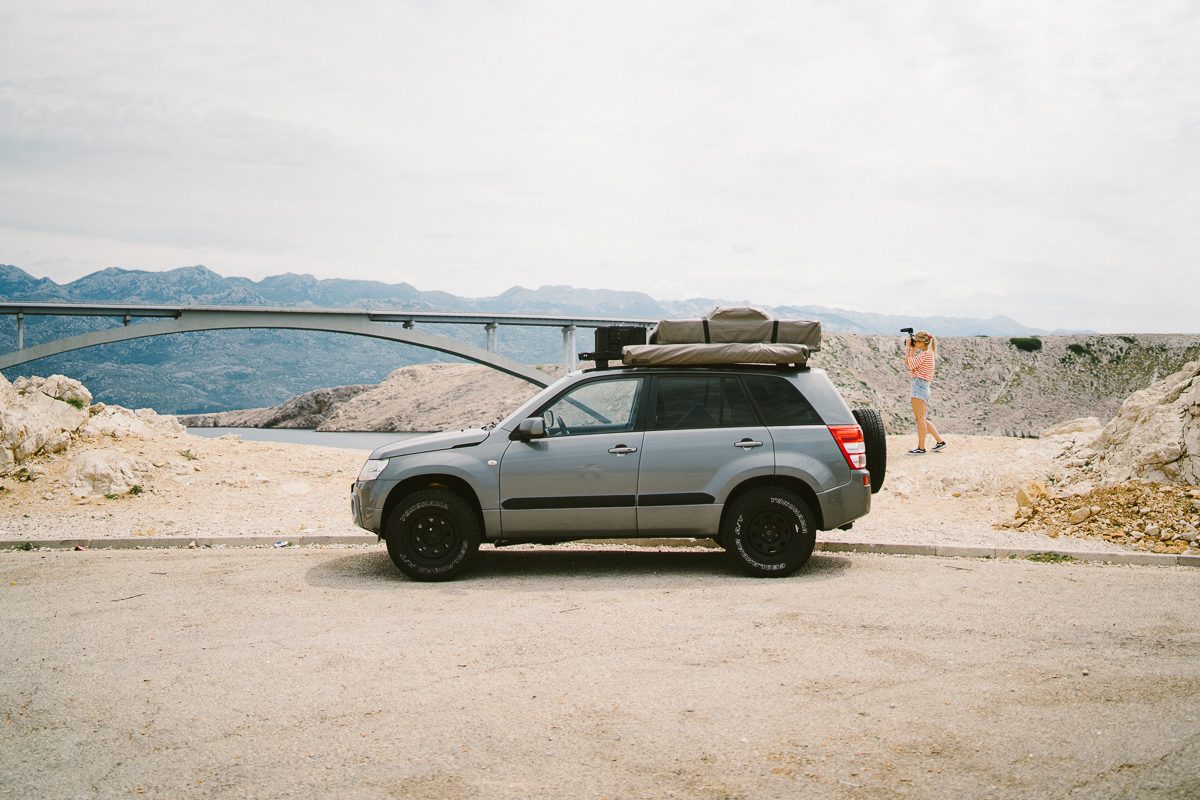 Heaven in Nature
The next stage is the continuation of the drive towards the country of Mercedes. For those of you that don't know about it, most of the cars driving in Albania are Mercedes. In order not to go along the well-known to us Croatian coast, we decided to go towards Bosnia and Herzegovina. After crossing the border, a short stop at Lake Blindje and continue the route to Stolac. We stayed two days at the campsite with a name that describes it quite well – Heaven in Nature. A campsite surrounded by mountains, with a crystal clear river and home cooking. Camp manager Tarik greeted us with a smile and we spent the evening eating Ćevapi, drinking wine and listening to the host's life stories.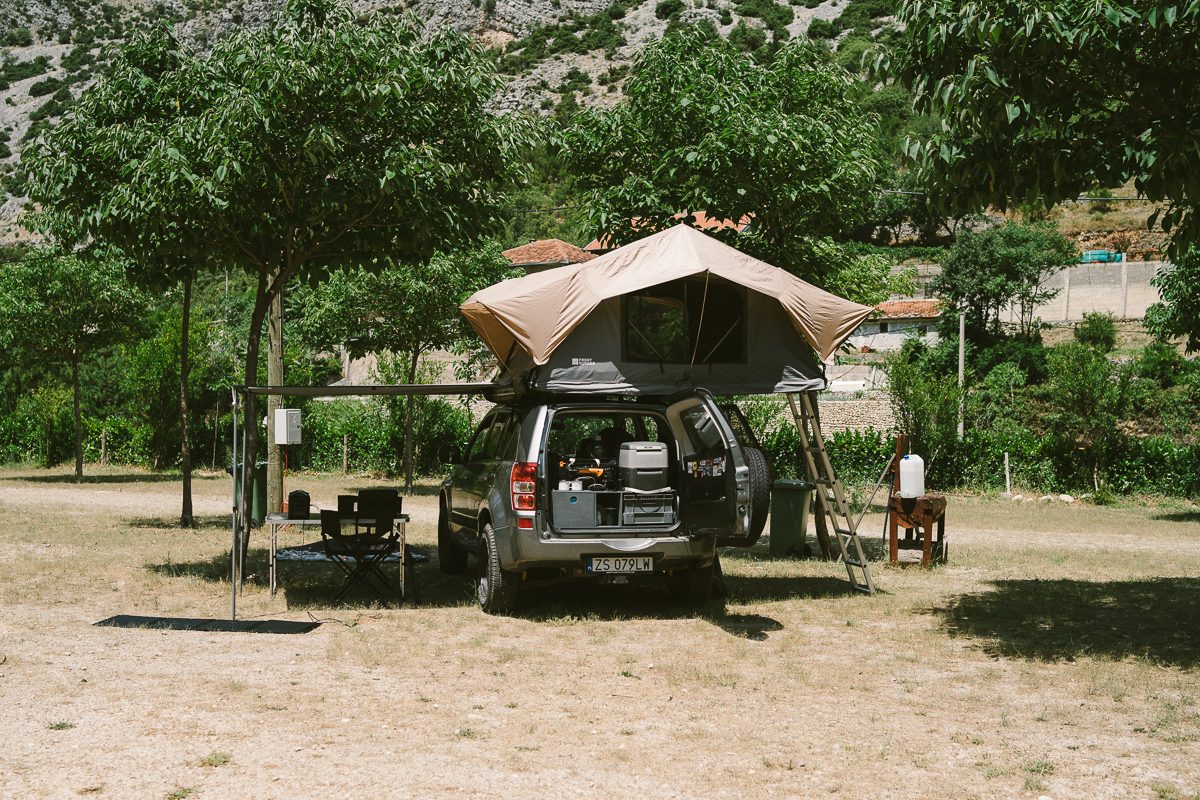 Porto Novo
To be honest with you we were looking forward to crossing the Albanian border, so our next destination turned out to be a campsite by Lake Shkodra. However, the very high air humidity in this beautiful place was the reason for us to head towards a dream spot on the Adriatic Sea as soon as possible. It is Porto Novo beach, just a few kilometres north of Vlorë. Porto Novo is a beautiful and quiet place with a sandy beach. Unfortunately, the evenings in the company of mosquitoes were not the most pleasant. All because of the huge lagoon east of this location.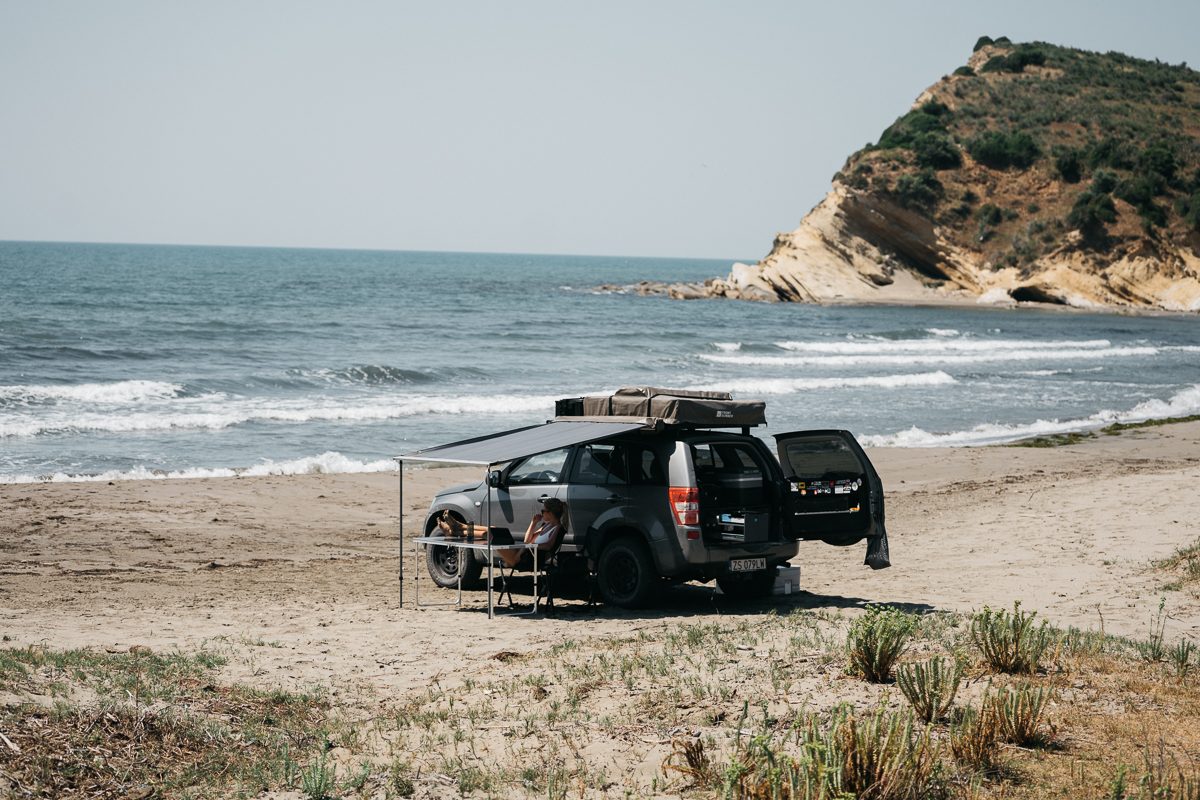 SH8 Road
The next day is a return to "civilization" and a night at a campsite in Himare, only 85 km from the sleeping location on the wild beach. We were led to it by the famous SH8 road, considered to be one of the most beautiful coastal routes in the world. The journey took us over 3 hours, because the road leads through the Llogara Pass, about 1043 meters of climbing by car on one side, then descending to sea level on the other side. The route makes an amazing impression. Along the way, you can buy local products from the stands or dine in restaurants with amazing, varied views.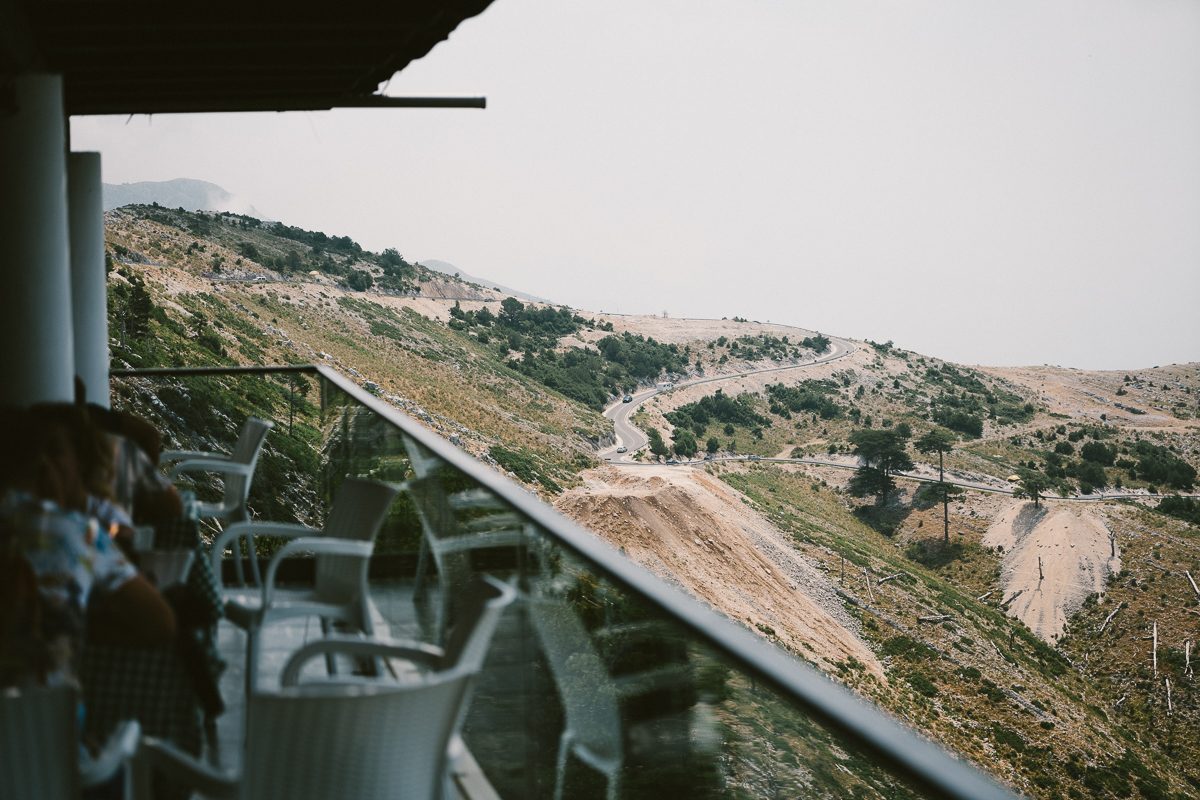 Budva & Durmitor
When our journey was slowly coming to an end, we decided to end our exploration of Albania and head towards Montenegro. On the way back, we spent one night in the Albanian Maldives – Camping Pa Emer. Being there, we booked accommodation in the Montenegrin town of Budva. Two days in a 4-star hotel with a rooftop pool, then continue north towards Bosnia and Herzegovina. On the way, a drive through Montenegro's Kotor, the legendary P14 road that leads through the Durmitor National Park and our last destination, Sarajevo. From Sarajevo we had only 1600 km of route, through Croatia, Slovenia, Austria and Germany to Szczecin. We did it in one go.
In total, on our Balkans trip we traveled 5.000 kilometres during these two weeks, visited 8 countries and stayed overnight in 9 different places.