The most important modification related to the travel of the Suzuki Grand Vitara II is the Front Runner Feather-Lite roof-top tent. Attached to the roof rack, it is our home on four wheels. In this post, we present to you all the information related to it.
to the product website*

Front Runner Feather-Lite dimensions
The dimensions of the unfolded Front Runner Feather-Lite roof tent are 1.30 m wide and 2.40 m long. It is the flattest roof tent (216 mm without ladder, 330 mm with ladder) on the market and weighs only 43 kg. Due to its flat profile, air resistance is reduced when driving a car. The tent itself can comfortably accommodate two adults. It opens in one smooth movement, creating a lightning-fast bedroom wherever we are.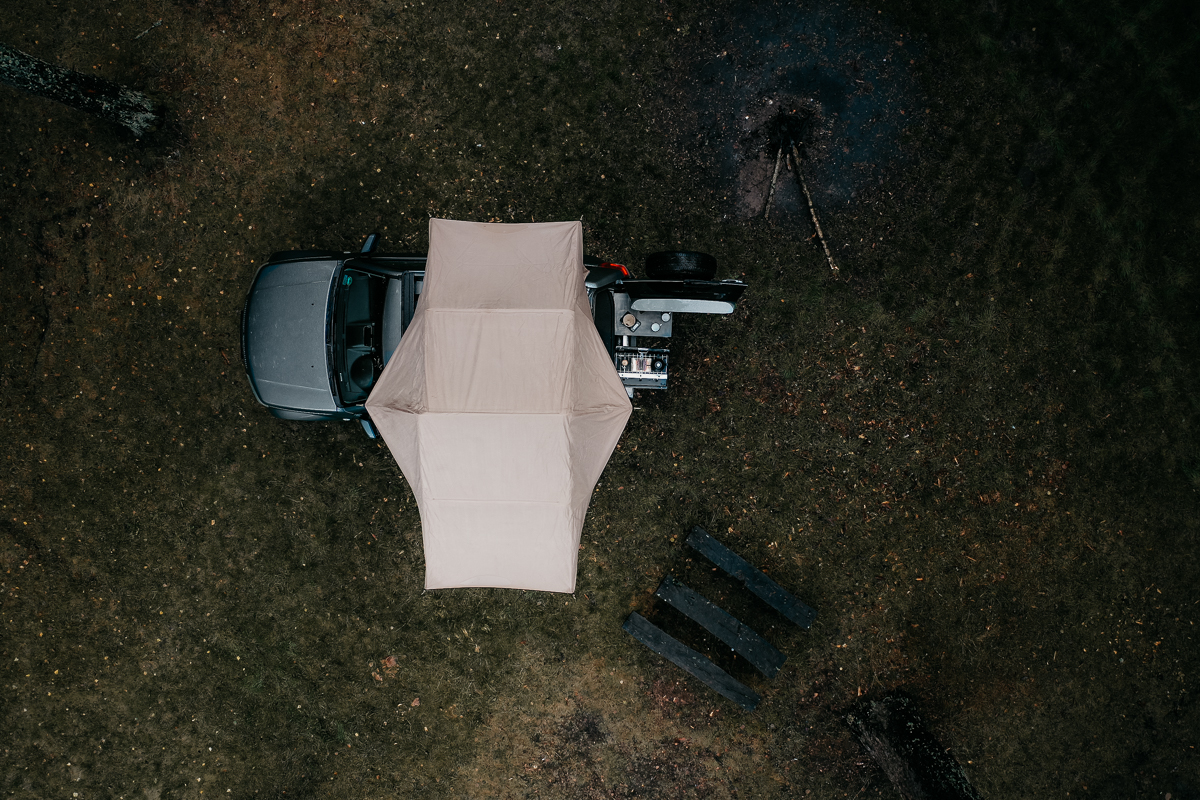 Materials
A durable base with an aluminium frame, foils and a dense foam core provide stabilization and insulation. The tent's body is made of a waterproof, durable 260g ripstop polyester-cotton fabric. The outer layer is made of 400D waterproof, UV-resistant polyester fabric. In addition, a solid and durable 650 g nylon cover, covered with PVC, protects the tent during transport. The set with the tent is a comfortable mattress, 6 cm thick, made of high-density foam. In addition, it is covered with a washable, moisture-resistant and mildew-resistant polyester fabric – Oxford.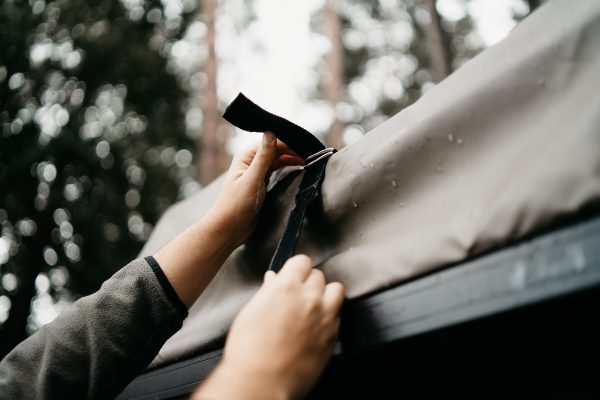 Additional Functions
Undoubtedly, our favourite is the unlimited view, because on 4 sides of the world from all windows – if necessary, the skylights can be opened or closed to provide access to fresh air, sun or a view of the sky. This roof-top tent has other locks on all windows and doors, so we can adjust the size of the opening to suit the needs of privacy or weather conditions. There are two hanging pockets (34 cm x 22 cm) inside the tent. They provide enough space for personal belongings: tablet, book, phone. In addition, the extra space at the entrance can be used to store larger personal items inside the tent. How to get inside? This is probably the most common question we have heard after purchasing a tent. In this, we are helped by an extendable, solid, aluminium ladder.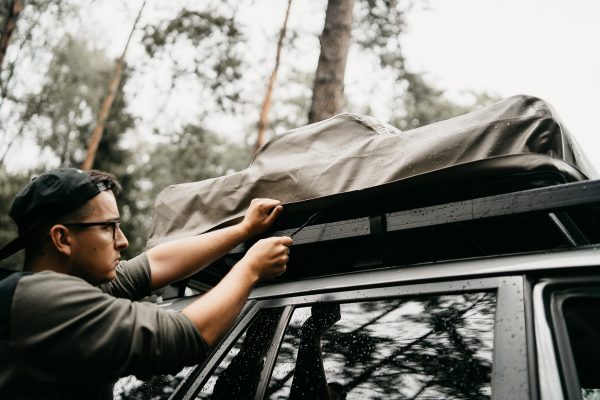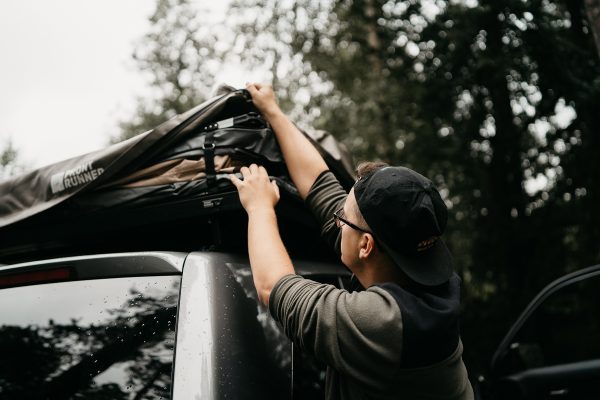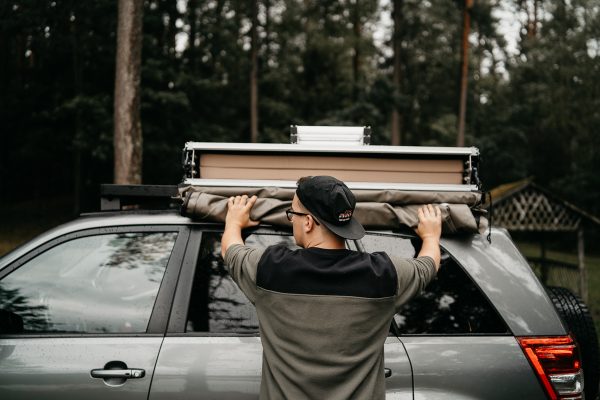 Front Runner Feather-Lite Roof-top tent mount
Universal mounting plates are included with the Front Runner Feather-Lite roof-top tent. They are not part of the tent, but a separate element to provide the greatest possible flexibility when attaching them to the roof rack or crossbars. Of course, it is possible to buy dedicated mounting plates for the Front Runner roof rack. The tent can be mounted on almost any vehicle in any way – with the possibility of opening backwards, forwards or sideways.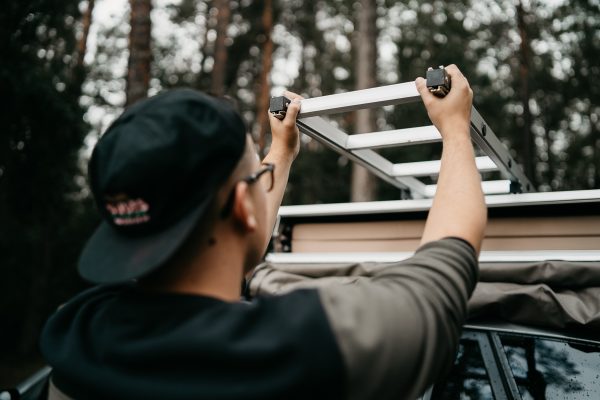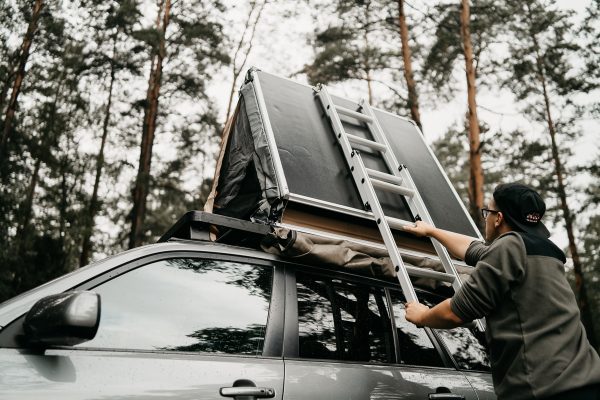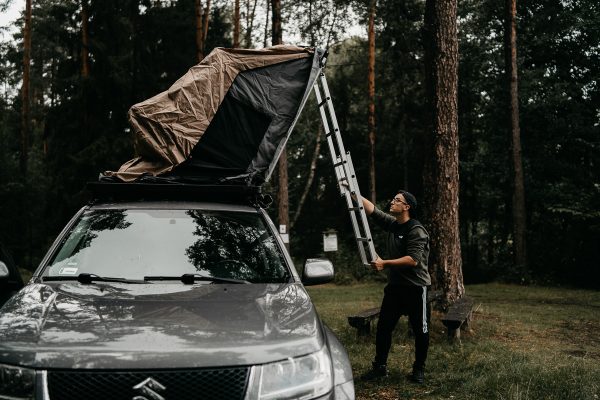 *affiliate link