There is a strong likelihood that you came across the Front Runner Outfitters Feather-Lite during your research on rooftop tents and are eager to learn more about this exceptional product. Well, lucky for you, we have spent the past two years of our travels in the Suzuki Grand Vitara, comfortably sleeping in this marvelous tent.
Front Runner Outfitters Feather-Lite dimensions
The dimensions of the unfolded Front Runner Outfitters Feather-Lite roof tent measure 1.30 meters in width and 2.40 meters in length. Not only that, but it proudly boasts the title of being the flattest roof tent available, and remarkably weighs a mere 43 kg. As a result, it becomes an exceptional choice for vehicles with lower roof ratings and limited space. The tent's sleek profile also contributes to reduced air resistance during your drives. When it comes to capacity, this tent comfortably accommodates two adults, unfolding effortlessly in one smooth motion, creating a lightning-fast bedroom no matter where we find ourselves.
open (internal dimensions)
2438mm x 1220mm x 1330mm (L x W x H)
Closed (excl. ladder and cover)
1295mm x 1220mm x 200mm / 216mm (L x W x H)
Open (incl. flysheet)
3330mm x 2290mm x 1330mm (L x W x H)
Closed (incl. ladder and cover)
1330mm x 1245mm x 330mm (L x W x H)
What is this Roof-Top tent made of?
Constructed with exceptional durability in mind, the Front Runner Outfitters Feather-Lite roof tent features a sturdy aluminum frame, reinforced with foils and a dense foam core, providing both stability and insulation. The tent's body is crafted from a resilient 260g ripstop polyester-cotton fabric, ensuring it remains waterproof and long-lasting. To further protect against the elements, the outer layer consists of a 400D waterproof polyester fabric, resistant to UV rays. During transportation, a robust and reliable 650g nylon cover, coated with PVC, safeguards the tent. Accompanying the tent is a plush mattress, 6 cm thick, made from high-density foam, ensuring optimum comfort. Furthermore, the tent cover is fashioned from a washable, moisture-resistant, and mildew-resistant polyester fabric known as Oxford, guaranteeing long-term durability.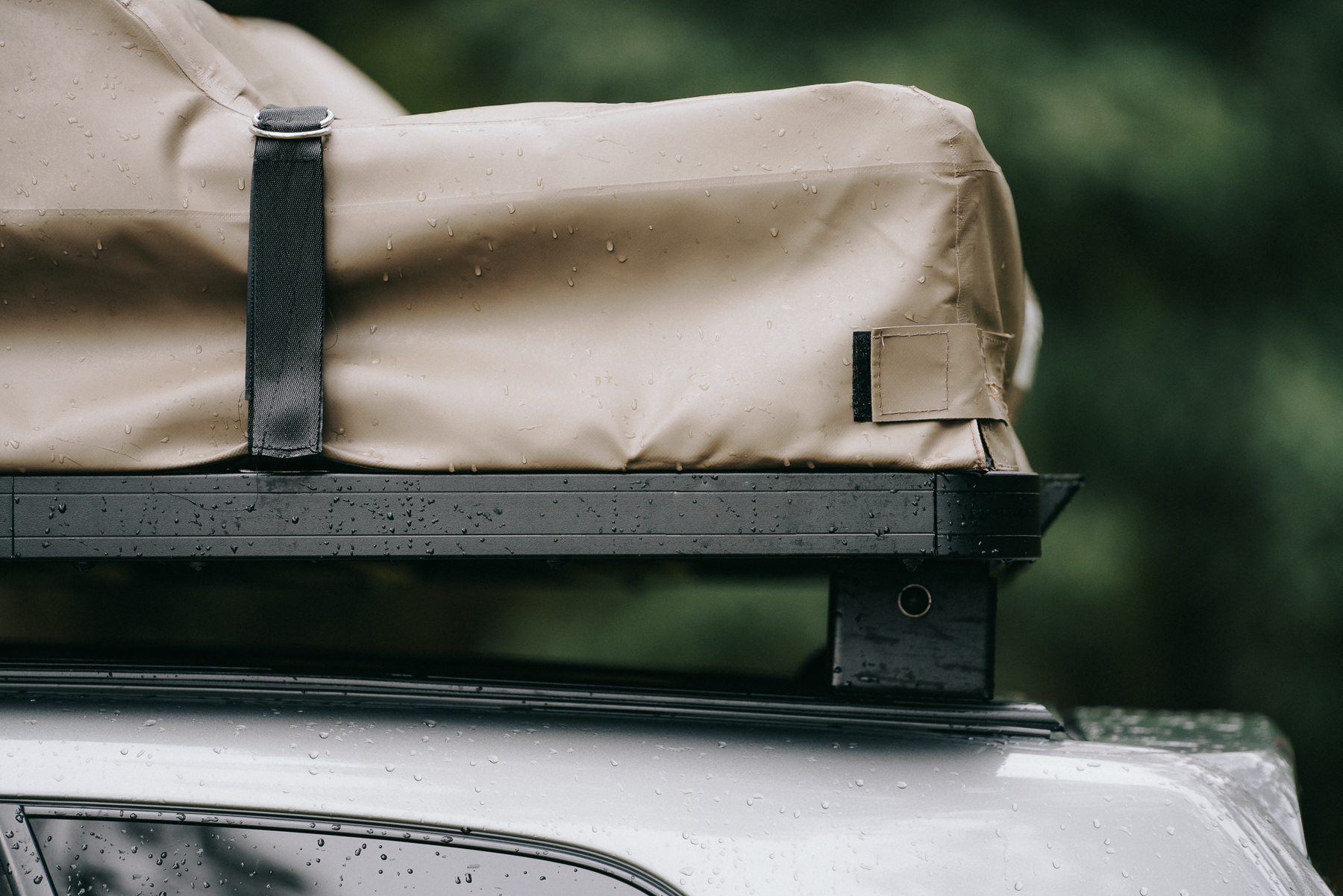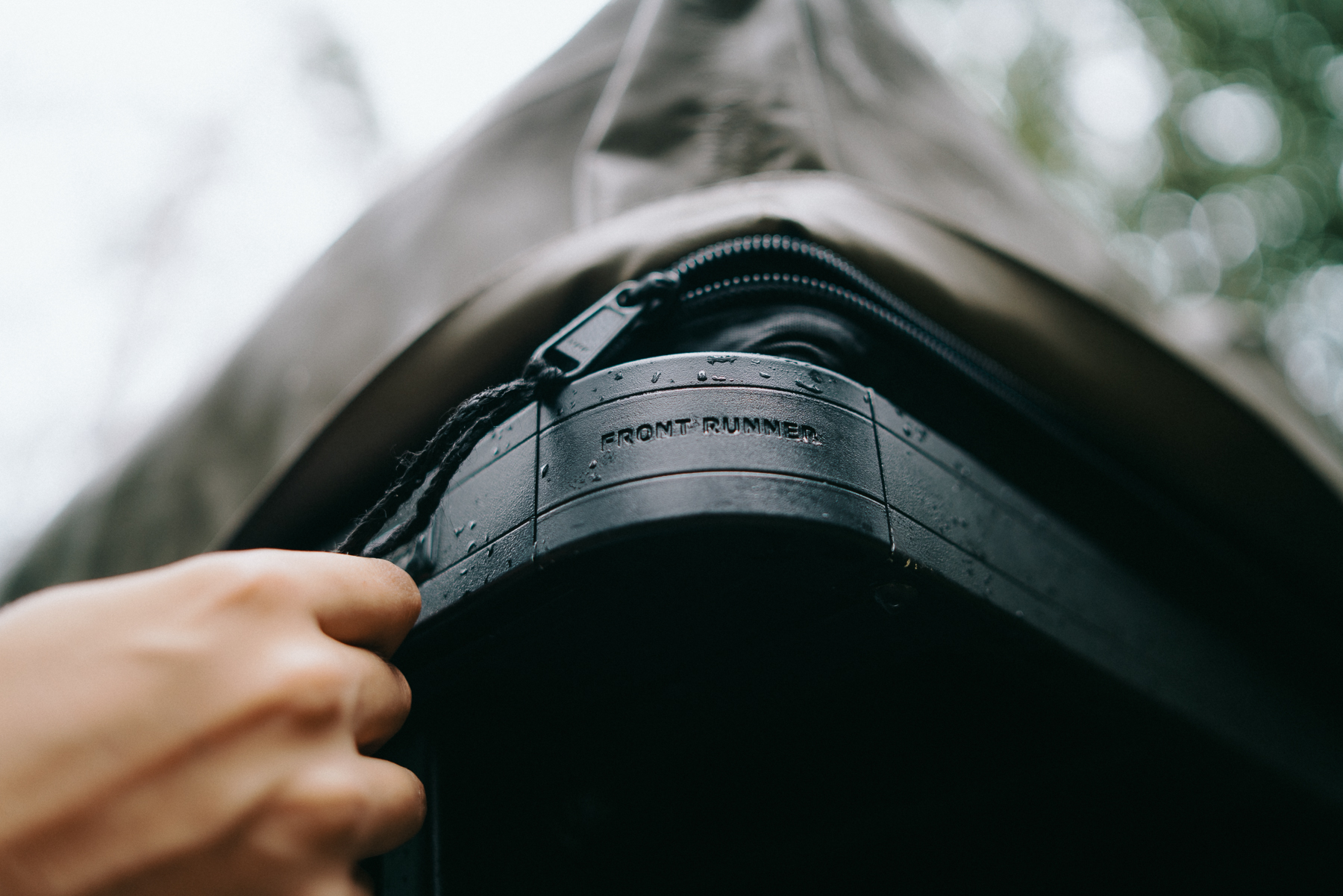 What is so special about it?
Without a doubt, one of the most remarkable features of this roof-top tent is the unparalleled panoramic view it offers. With windows on all four sides, each equipped with adjustable skylights, we have the luxury of opening or closing them to enjoy a breath of fresh air, bask in the warm sunlight, or simply marvel at the expansive sky above. Moreover, every window and door comes with reliable locks, allowing us to customize the size of the opening to cater to our privacy preferences or adapt to varying weather conditions. Inside the tent, we are delighted to find two spacious hanging pockets measuring 34 cm x 22 cm, providing ample room for our personal belongings such as tablets, books, and phones. Additionally, the entrance area offers extra storage space, accommodating larger items within the tent itself. Now, the question arises: how do we enter this splendid abode? Fear not, for we are equipped with an extendable, sturdy aluminum ladder, ensuring easy access and ensuring our safety at all times.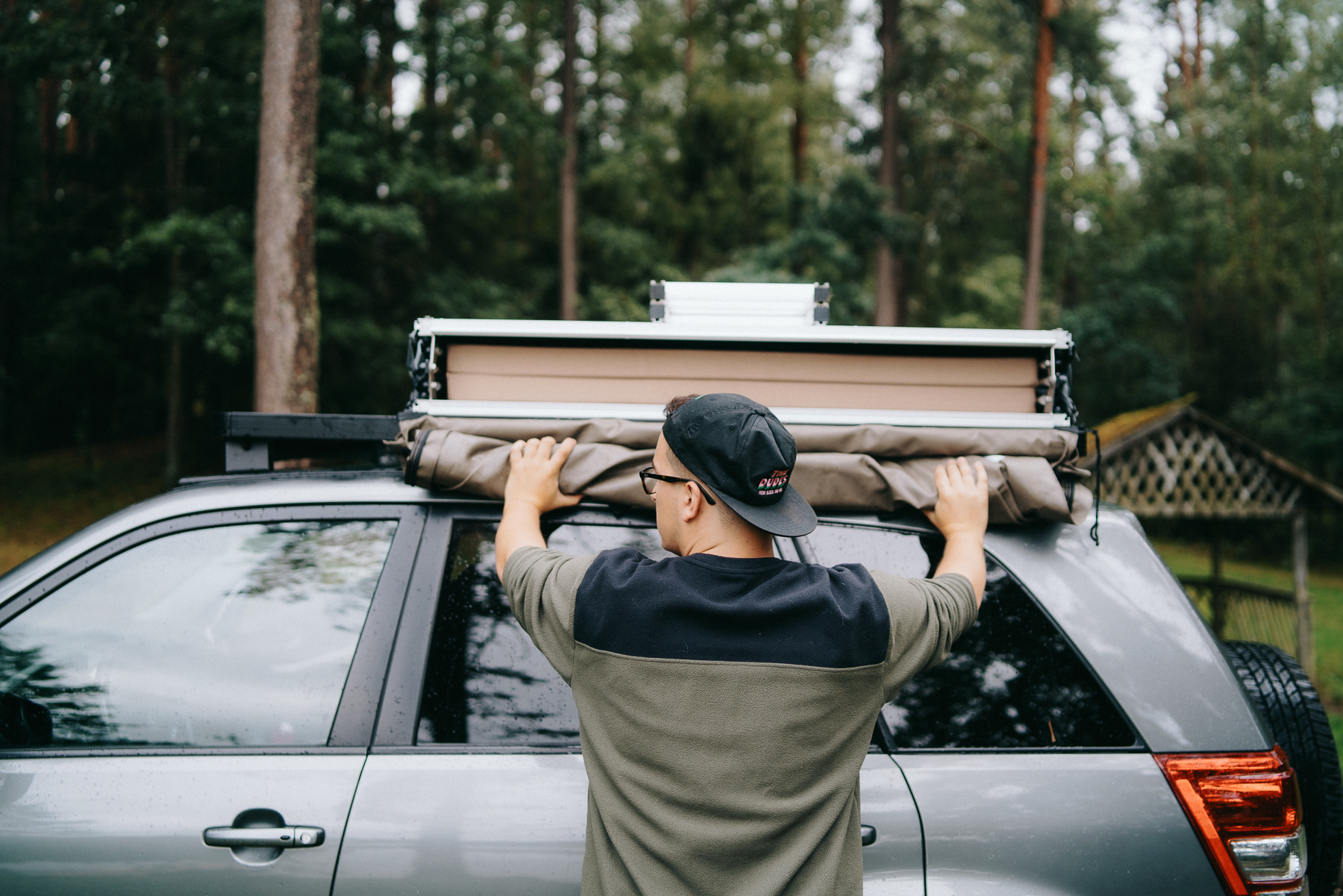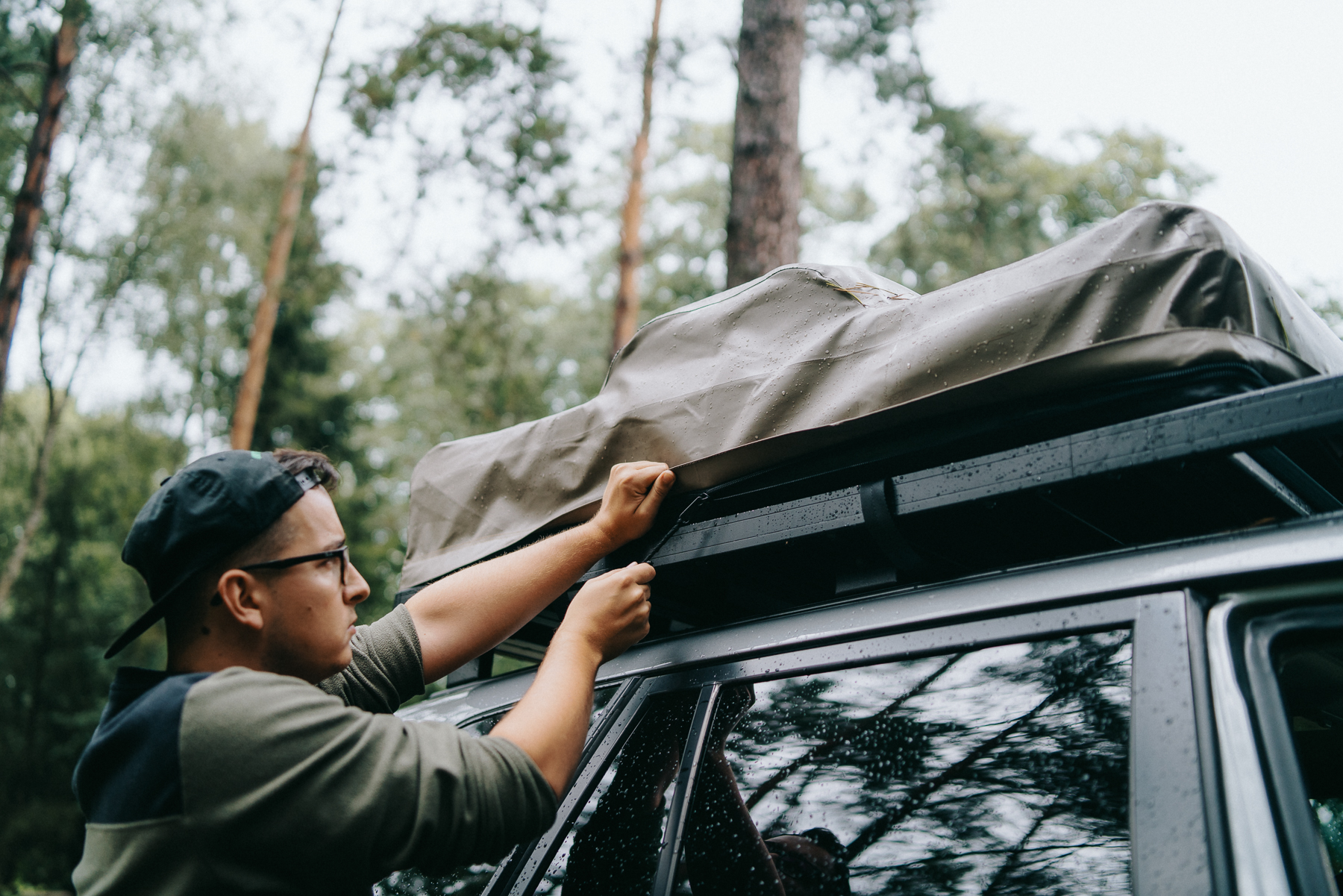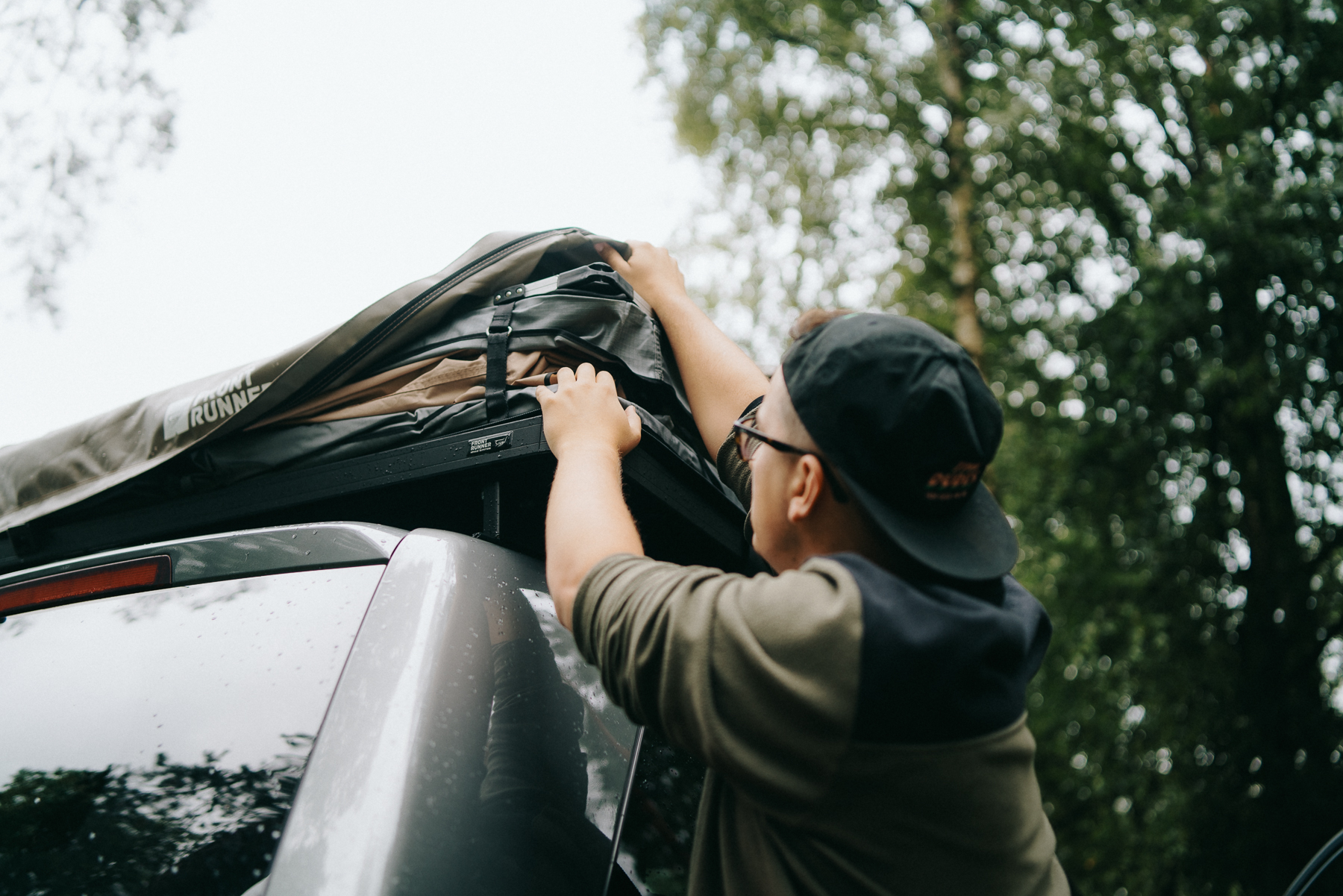 How to mount the Feather-Lite tent
The Front Runner Outfitters Feather-Lite roof-top tent comes complete with universal mounting plates, ensuring versatility when attaching it to your roof rack or crossbars. These mounting plates, although separate from the tent itself, offer unparalleled flexibility in installation. Should you desire a dedicated mounting solution, Front Runner provides specialized mounting plates designed specifically for their roof rack system. With such adaptability, the tent can be securely mounted on virtually any vehicle, granting you the freedom to choose the optimal opening direction—be it backward, forward, or sideways—based on your preference and convenience.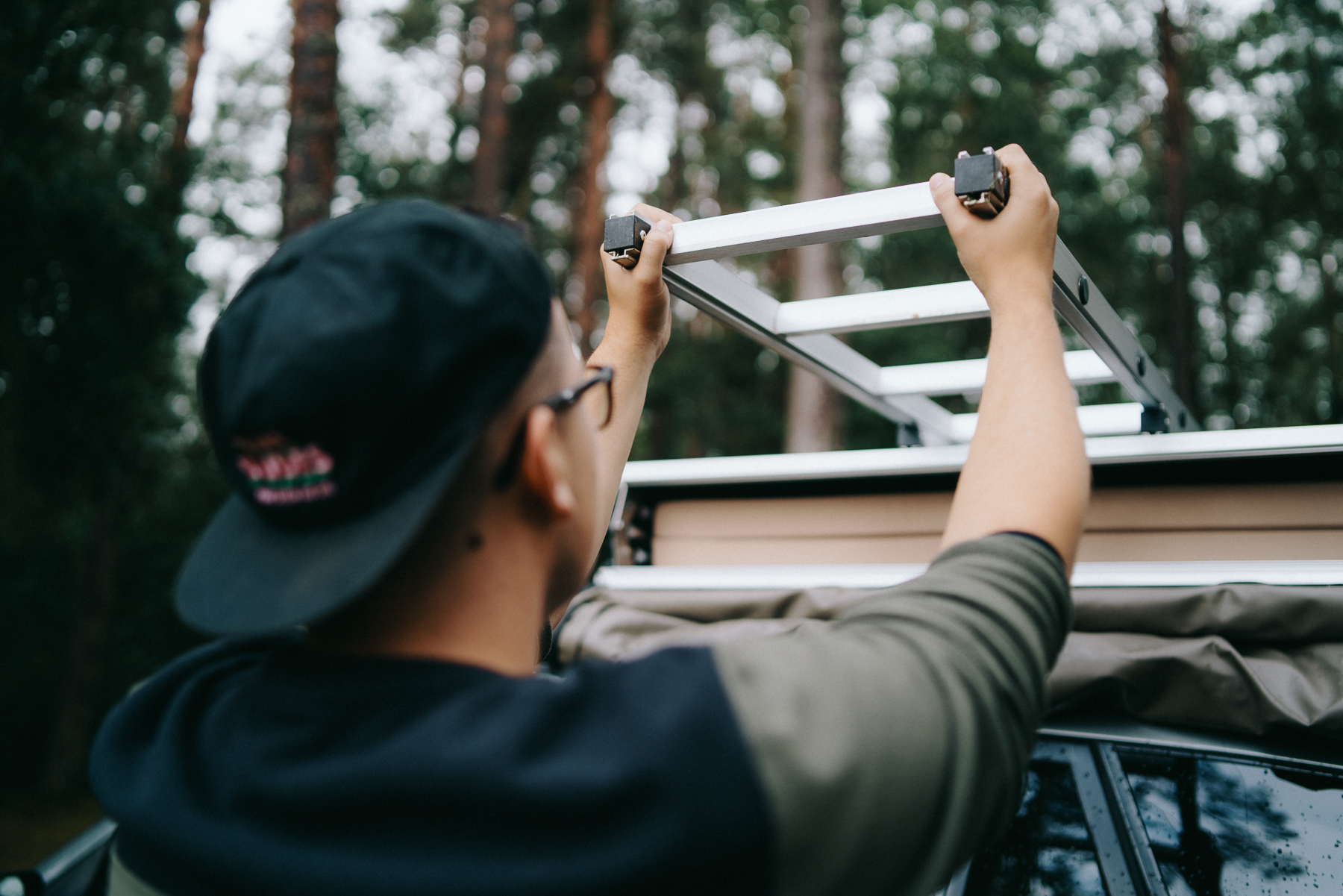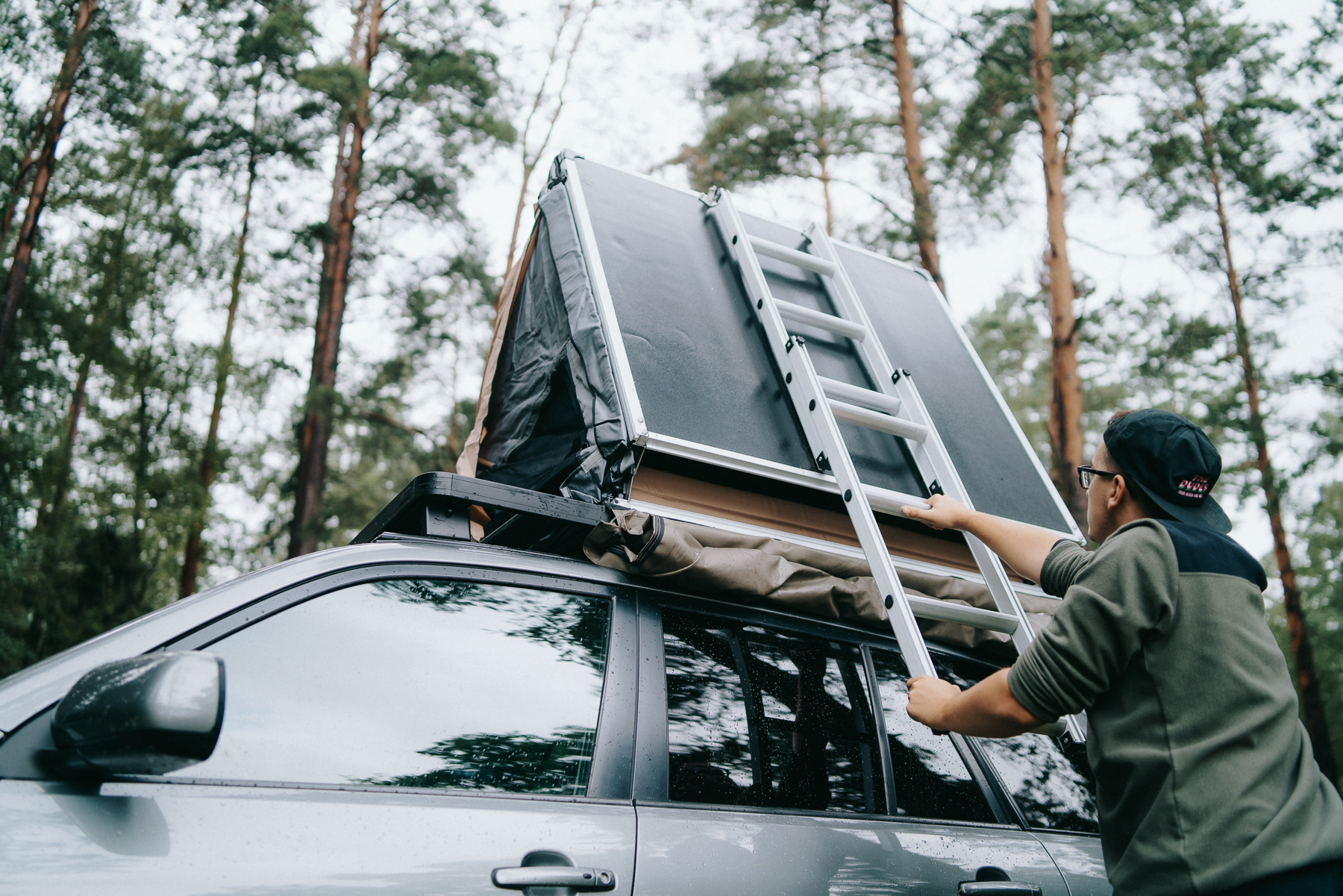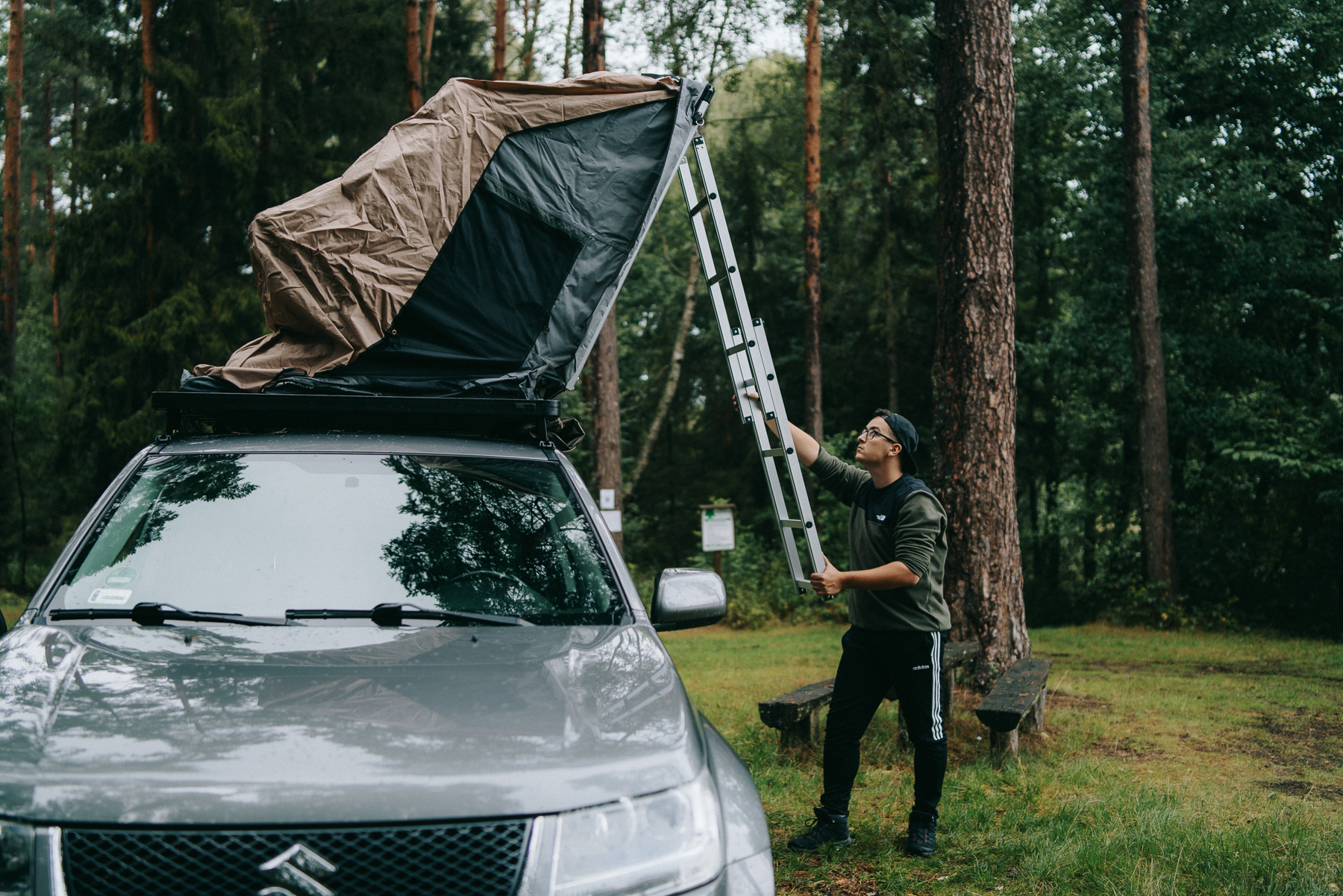 Should you buy the Front Runner Outfitters Feather-lite?
In summary, the Front Runner Outfitters Feather-Lite proves to be an excellent choice for those embarking on their journey into the world of roof-top tent travel. Notably, within its price range, it stands as a standout option with limited alternatives available. The tent impresses with its durability, ensuring it can withstand the rigors of the road. Additionally, its dimensions offer exceptional compatibility, allowing it to effortlessly fit on almost any vehicle. Moreover, in comparison to other tents, its lightweight nature is a true advantage. It's worth noting, however, that setting up soft-shell rooftop tents requires time and effort, demanding more than meets the eye. Should you desire a deeper understanding of the various advantages and disadvantages associated with different rooftop tents, we invite you to explore a dedicated blog post on our website, offering comprehensive insights.
*affiliate link