How to get to the Island of Murter
Murter, despite being an island, boasts convenient connectivity to the mainland through a small bridge located in the village of Tisno. This bridge operates twice a day, in the morning and evening, for approximately 30 minutes, allowing boats to cross between the two sides. Accessing the bridge is hassle-free, whether by car or bus, providing convenient transportation options for visitors.
For those traveling from the south or north via the highway, simply take exit 20-Pirovac towards Murter/Vodice and continue along a local road to reach the island. Alternatively, you can choose the scenic coastal road, although it may take a bit longer to reach your destination.
Moreover, there is a regular bus line that connects Sibenik to Murter, offering a reliable public transportation option for travelers. If air travel is your preference, you have two nearby airports to choose from: Split and Zadar. Both airports provide easy access to Murter Island, ensuring a smooth journey for your arrival.
Best time to visit Murter Island
For an abundance of sunshine and minimal rainfall, the best time to visit Murter Island is from May to September. During these months, the island experiences a delightful Mediterranean climate characterized by hot and dry summers, along with mild and occasionally rainy winters.
Prepare for at least 90 days of warm temperatures, with a minimum of 25 degrees Celsius. On average, Murter Island enjoys approximately 280 sunny days per year, providing ample opportunities to soak up the sun's radiant rays.
Here's an intriguing tip: Keep a watchful eye on the Kornati archipelago to gauge potential rainfall. The direction of the archipelago can offer valuable insights into the weather conditions, helping you plan your activities accordingly.
Murter Island offers a remarkable selection of unique accommodations to cater to every traveler's preferences. The island's lodging options primarily comprise privately-run apartments and guesthouses, guaranteeing a cozy and personalized experience. Moreover, you can discover charming small hotels and secluded campsites nestled amidst the island's breathtaking natural surroundings. Whether you desire a snug apartment, a boutique guesthouse, or a serene camping retreat, Murter Island has something to suit your needs. To assist you in finding the ideal place to stay during your visit, we have curated a list of recommended accommodations below.
Golden Haven – For those of you who are looking for something luxurious and unique. Accommodation units in a remote location on the south coast of Murter island. The views are breathtaking and every unit has its own outside pool. Generally, a great place if you are traveling as a group of more than three people.
Apartments Antonio – A beautiful place to stay in the town of Tisno. Located centrally with great restaurants and bars nearby. It is only 50 meters away from the sea harbor where you can take a swim and enjoy some truly Mediterranean vibes. In either case, the rooms are well-equipped and the host Duda makes you feel very welcome.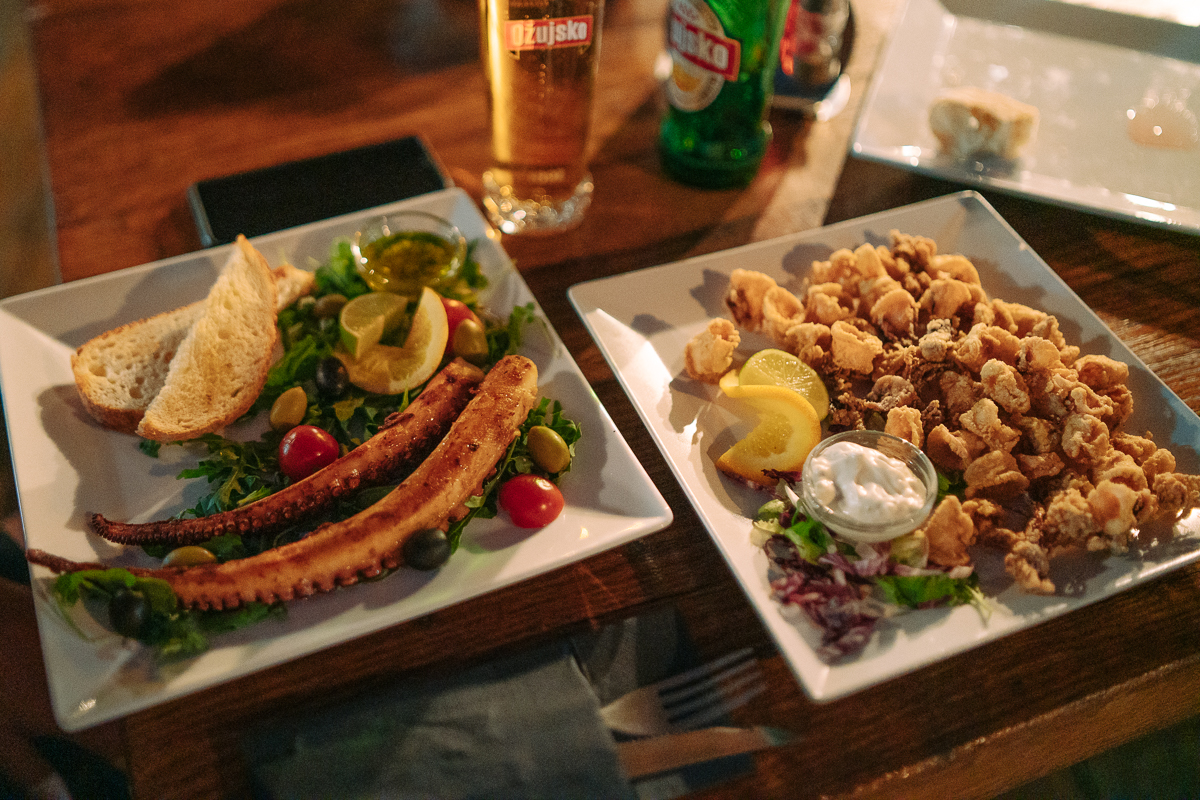 Camp Lasatka – Our favorite campsite on Murter Island by far. Just 50 meters away from the most beautiful beach on the island and 10 minutes walking distance from town. Beyond that, there are some nicely equipped sanitary facilities and great views. As a result of this great location, you should book your plot beforehand. Remember that it is a very small campsite basically next to Camp Slanica and it is quite easy to mistake them.
Camp Kosirina – Ideal place for nature lovers which has great scuba diving beaches and is far away from the nearest town. Furthermore, it is quiet and people love to walk around without any clothes on. Meaning it is not for everyone.
Kamp Stella Maris – A super intimate campsite. Each plot is terraced with a sea view which means that access could be difficult for some camper vans. But feel free to check it out by yourself. There is also a restaurant with great food and a rocky beach just below the campsite.
Camp Slanica – The biggest and the most popular campsite in this area. In fact, it gets hectic during the peak season, so a plot reservation is mandatory. Depending on your neighbors your stay can turn into roulette. Party animals love to stay on this particular campsite. There is a variety of restaurants and bars nearby.
Attractions on Murter Island
Embarking on a vacation to Murter Island promises a wealth of captivating attractions waiting to be discovered. Immerse yourself in the storied history of towns like Murter, Tisno, and Jezera, where echoes of their Roman origins still resonate. Unwind on Croatia's awe-inspiring beaches, relishing in the sunshine and immersing yourself in the crystalline waters. Adventurers can indulge in exhilarating hikes that unveil mesmerizing vistas of the surrounding Mediterranean landscape. Below, we have compiled a list of our top highlights to enrich your experience on Murter Island.
Tucked away in the northeastern part of Murter Island, Murter town stands as the largest village on the island, radiating an irresistible charm that should not be overlooked. The idyllic old town beckons with its winding stone alleys and a picturesque harbor adorned with traditional wooden boats gently swaying in the sea. Despite its rustic ambiance, Murter Town boasts a rich cultural heritage, preserving cherished traditions in folk art and spirituality throughout its history.
While meandering through the enchanting alleys, you'll stumble upon quaint shops and boutiques, each offering a treasure trove of handmade souvenirs and regional delicacies. Take pleasure in perusing these delightful establishments, where you can discover unique mementos to cherish or indulge in the flavors of local specialties.
Situated at the drawbridge connecting Murter with the mainland, the town of Tisno offers a captivating coastal experience. One of its remarkable features is the panoramic view of colorful and partly historic townhouses, best admired while strolling along the picturesque promenade. However, Tisno is also renowned for hosting some of Europe's most exhilarating music festivals. It's important to note that during these festivals, certain stages play music non-stop for an entire week, creating an electric atmosphere. Two notable festivals held here are the Love International Festival and the Dimensions Festival, both attracting music enthusiasts from far and wide.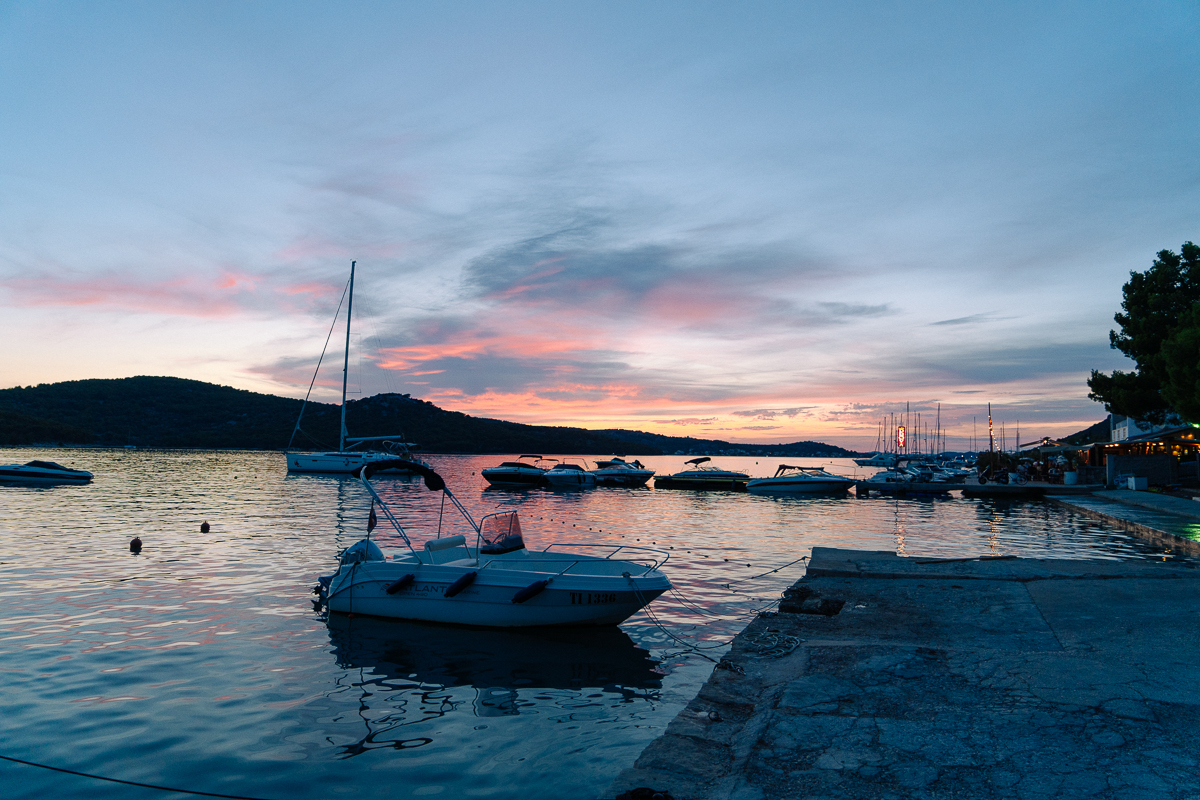 Fishermen's village Jezera
Jezera, adorned with the prestigious Blue Flower award from the Croatian Tourist Board for five consecutive years, has secured its place as an unmissable destination on the Croatian tourism map, celebrated for its beauty and pristine environment. Due to limited fertile land, the residents of Jezera have traditionally embraced a seafaring lifestyle, relying on the sea for sustenance as fishermen. Even today, Jezera maintains the charming characteristics of a quintessential Dalmatian fishing town, preserving its authentic coastal ambiance.
Raduč hill panoramic viewpoint
Positioned at the highest vantage point of Murter Island (125 m above sea level), the Murter Island military base stands as a remnant of the former Yugoslavian military complex. During the civil war in the 1990s, it served as a base for the Croatian army. Unfortunately, we were unable to explore the tunnels due to insufficient equipment. These tunnels are shrouded in complete darkness, so anyone planning to venture inside should bring a flashlight or a reliable light source. Nonetheless, the breathtaking view from the summit alone made this place a memorable experience.
Accessing the military base is relatively straightforward. It can be reached on foot from various directions on the hill, and you can find the correct path on Google Maps. Additionally, there is road access available for cyclists and motorized vehicles. By turning onto a gravel road, you can enter the base at that point.
Best beaches on Murter Island
Murter Island boasts four exquisite beaches that deserve a visit during your vacation. Each beach possesses its own distinct charm, with some even featuring rare sandy shores, making them particularly noteworthy in Croatia.
Čigrađa beach – A great place to relax. Surrounded by vegetation giving a lot of shade in the heat. The water is crystal clear which makes swimming a pleasure. There are also toilets and showers, and quite a few bars where you can have a drink or a snack.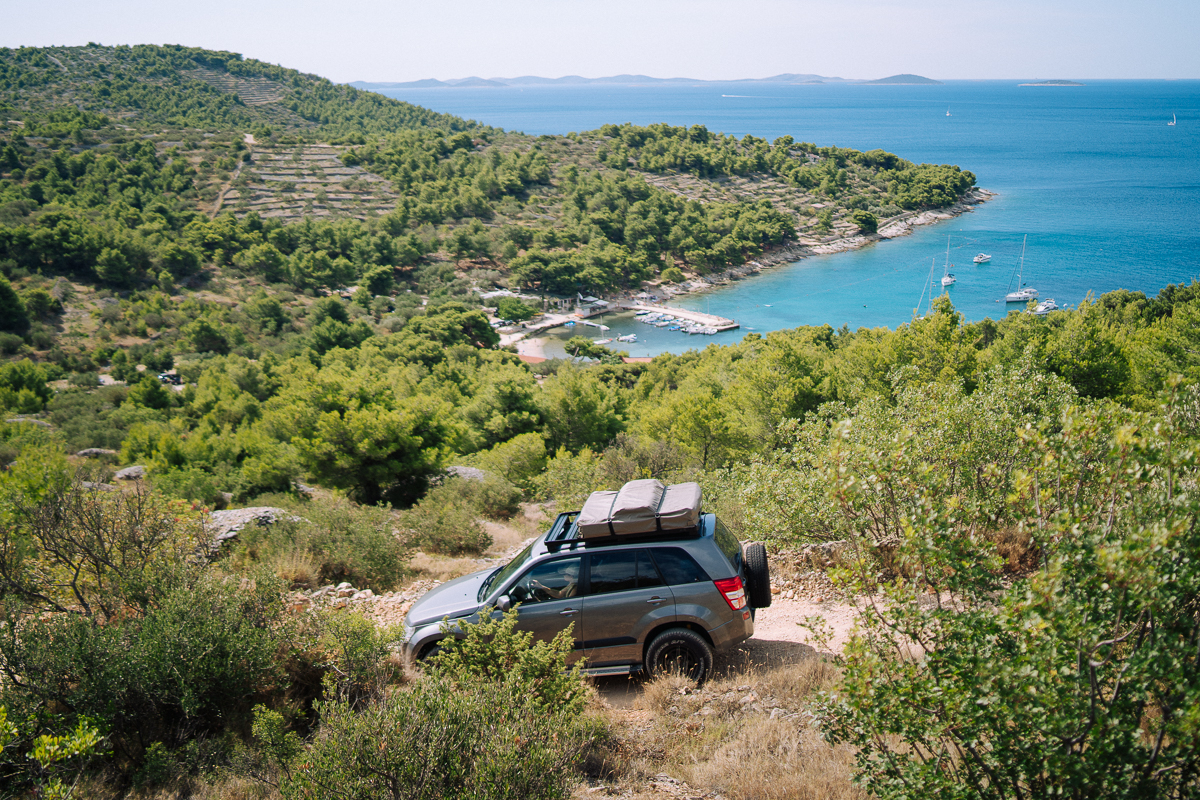 Podvrške beach – Everyone will find something for themselves here. Families with children a sandy beach, with shallow water on the right side. Lovers of underwater life can admire many fishes, shells, and sea urchins on the left side of the beach. Like in every beautiful spot you can expect a lot of people.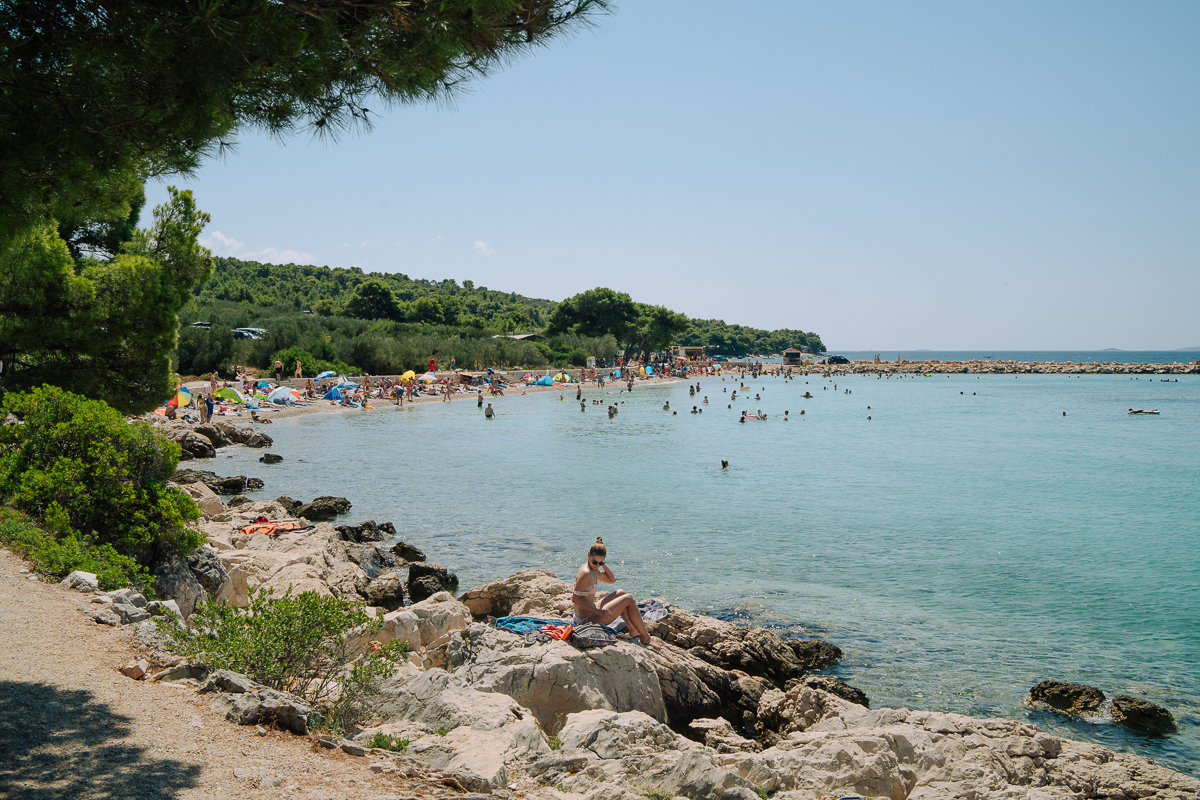 Slanica beach – The most popular beach on Murter island. Its popularity comes from the fact that it is sandy and the water is not deep, ideal for small children. A fairly well-developed culinary infrastructure, a lot of bars, pizzerias, and restaurants. Parking is a problem in high season.
Kosirina beach – A fairytale place with beautiful pine trees, rocks, and at the same time a gentle entrance to the sea. In fact, there is sand in the water and it is very shallow for a long time. Meaning it is a fantastic beach for children. Moreover, there is a toilet, a bar with cheap beer, and maybe some naked people on from the nearby FKK beach.
Finally, if you want to learn more about our trips down the Croatian coast feel free to visit a dedicated category on our blog. There are also blog posts from other Balkan countries like Albania, Montenegro, or Bosnia and Herzegovina.