Skotti and its superpower
Introducing Skotti, the groundbreaking mobile gas grill that revolutionizes outdoor cooking. What sets Skotti apart is its innovative design consisting of pluggable individual parts, allowing you to set it up in under a minute, without the need for any tools. But that's not all—Skotti also delivers exceptional heat, rivaling that of regular grills. Let's explore why Skotti is a game-changer in the world of outdoor grilling.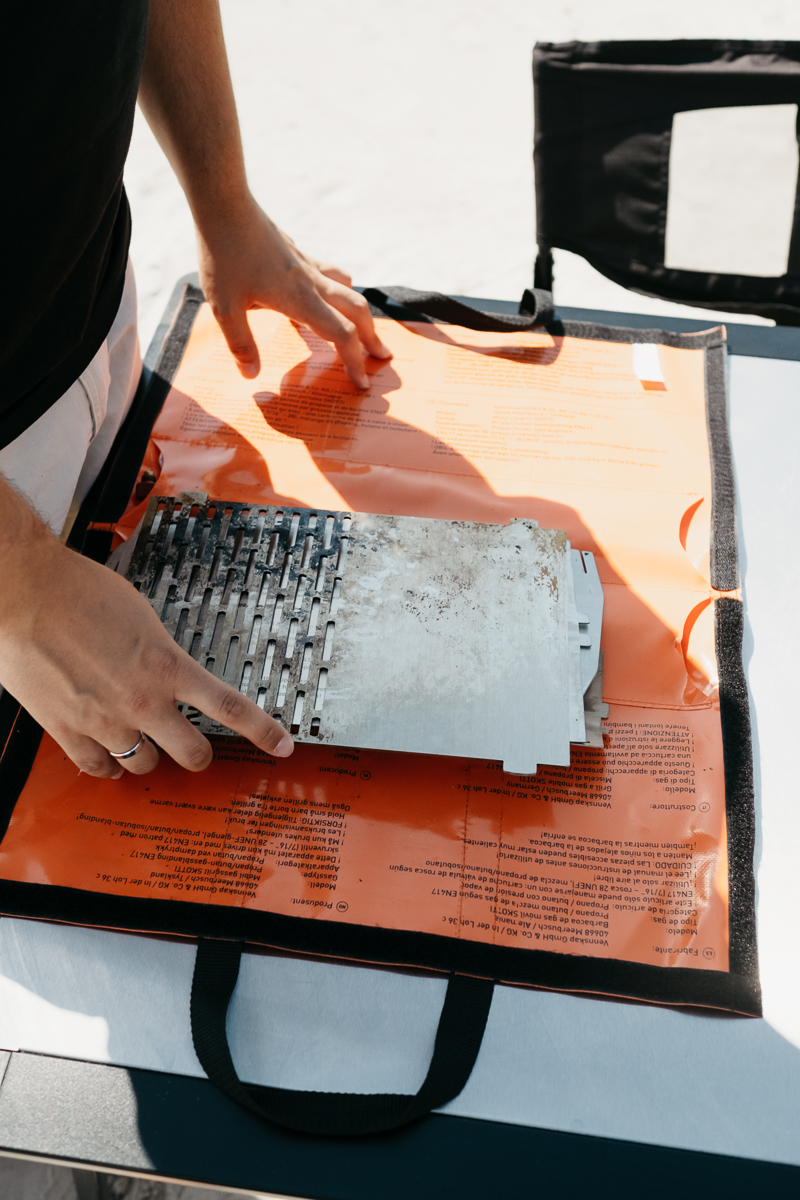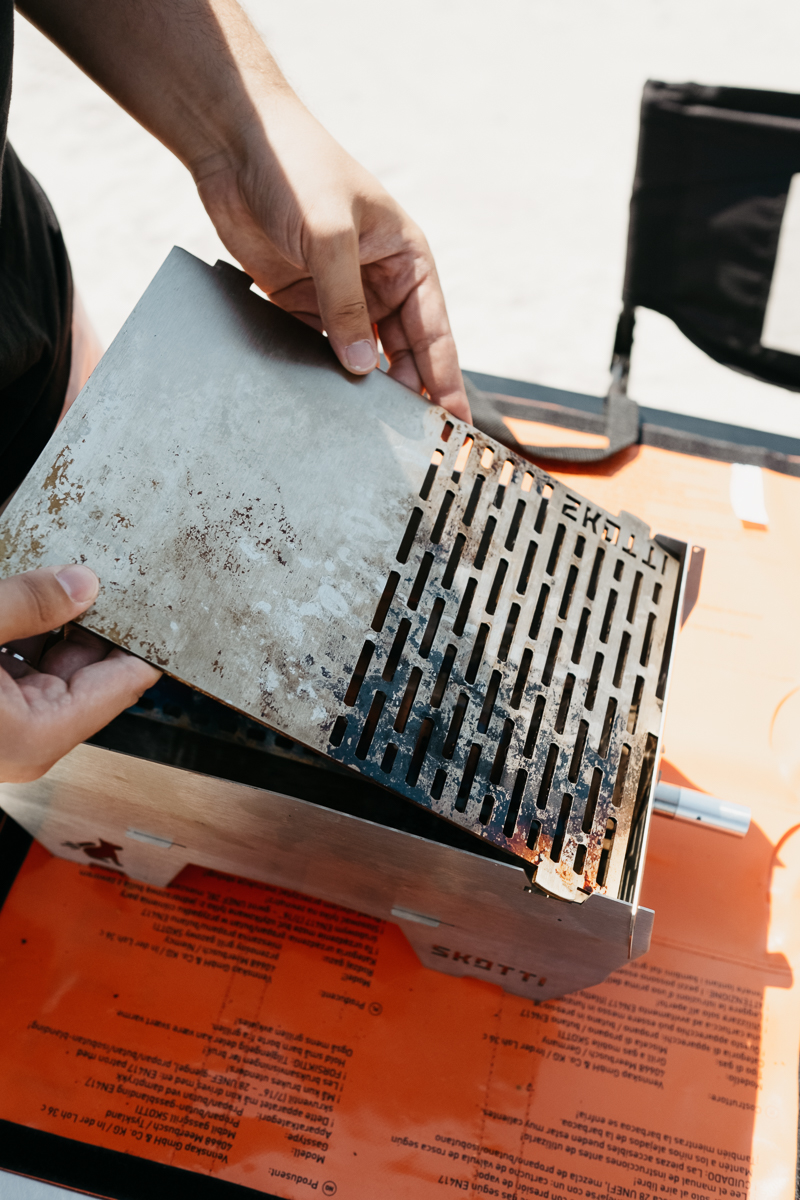 Lightweight and easy to carry
Skotti is a remarkable gas grill that stands out for its lightweight design, weighing just 3 kg (116 oz). This makes it significantly lighter than other gas grills on the market, ensuring effortless transportation during your outdoor adventures. To enhance portability, Skotti comes with a durable flat bag that not only protects the grill but also serves multiple practical purposes. Here's why Skotti is the ultimate companion for your grilling needs.
Easy Carrying with a Multi-functional Bag: The accompanying flat bag is designed to withstand the rigors of outdoor use while providing convenient transport for Skotti. Constructed with durability in mind, the bag also boasts fire-resistant properties, adding an extra layer of safety to your grilling experience. Moreover, the bag can be utilized as an underlay, safeguarding the ground beneath the grill from heat and potential damage.
Compact and Space-Saving: Skotti's compact dimensions further enhance its portability. With measurements of 45 x 30 x 3.5 cm (length x width x thickness/height), the grill neatly packs up, taking up minimal space in your vehicle or storage area. Whether you're embarking on a camping trip or heading to a picnic, Skotti's compact size ensures hassle-free transportation and storage.
Fortunately, Skotti is crafted with top-notch materials to ensure its longevity, providing users with a lifetime of grilling enjoyment. The grill body is constructed with robust 1.1 mm stainless steel, while the grill grate is made of durable 3 mm stainless steel. Should the need arise to replace any components, rest assured that all parts can be easily ordered through the official website, ensuring a seamless and convenient maintenance process. With Skotti's high-quality materials and accessible replacement options, users can trust in the grill's durability and reliability for years to come.
Infinitive upgrade possibilities
Skotti is not just limited to grilling; it offers a world of culinary possibilities, transforming into a multi-functional outdoor kitchen with the right accessories. By expanding your setup, you can unlock a wide range of delectable recipes beyond the traditional steaks and sausages. Let's explore the versatility of Skotti and the delightful dishes you can prepare.
Hood for Wind-Breaking and More: One of the key accessories for Skotti is the hood, which serves multiple purposes. When assembled without the top part, it acts as a wind-breaker, ensuring consistent heat and protecting your cooking from gusts of wind. This feature is particularly useful when preparing delicate dishes that require a stable cooking environment.
Endless Recipe Options: With Skotti's multi-functionality, you can experiment with various recipes. The possibilities are vast and include baking bread, pizza, and other dough-based creations. You can also prepare succulent fish, flavorful meat and vegetable skewers, charred corn on the cob, or even larger cuts of meat that require longer cooking times. Skotti's versatility allows you to unleash your culinary creativity and enjoy a diverse range of mouthwatering dishes.
Our experiences with Skotti
After several months of owning a Skotti, we can confidently say that it has exceeded our expectations and proven to be an excellent purchase. Not only has it enhanced our Land Cruiser adventures, but it has also become a staple for grilling gatherings with friends and family on our balcony. Let's delve into why Skotti has impressed us and why it has become a beloved addition to our culinary experiences.
Lightweight and Portable: Skotti's lightweight construction has been a game-changer for us. Its easy portability allows us to take it on our trips with the Land Cruiser effortlessly. Additionally, the grill packs up easily, ensuring convenience and hassle-free transportation. Whether we're exploring nature or enjoying a cozy barbecue at home, Skotti accompanies us wherever we go.
Powerful Performance: Skotti's cooking prowess is truly remarkable. It has proven itself capable of transforming any type of raw meat into a delicious and visually appealing meal. Its powerful heat distribution ensures consistent and efficient cooking, leaving us with perfectly grilled dishes every time. Skotti's performance elevates our culinary creations and adds a touch of excellence to our outdoor cooking endeavors.
Charcoal Compatibility: A notable feature of Skotti is its versatility in using both gas and charcoal. By simply removing two parts, Skotti can be easily transformed into a charcoal grill. This feature is particularly valuable when grilling in nature, as it imparts a delightful smoky flavor to our ingredients. Skotti's ability to adapt to different grilling preferences adds an extra layer of culinary exploration to our outdoor experiences.
Improved Design: One minor drawback we encountered was the lack of a feature to catch dripping grease. However, we were delighted to discover that a new version of Skotti now includes a drip tray, addressing this concern. The addition of the drip tray enhances the overall functionality of the grill, making it even better than before.
In summary, Skotti has proven to be a versatile, powerful, and indispensable addition to our outdoor cooking ventures. Its lightweight nature, ease of setup, and exceptional performance make it an ideal choice for any grilling occasion. Whether we're exploring the great outdoors or hosting gatherings at home, Skotti consistently delivers outstanding results. We eagerly look forward to creating more culinary delights with Skotti and highly recommend it to anyone seeking an exceptional grilling experience.