After two years and nearly 50,000 kilometres together, we decided to sell the Grand Vitara. The car which introduced us to automotive travelling and passionate enthusiasts who look at the world from a slightly different perspective is now gone forever. What distinguishes the second generation of Suzuki Grand Vitara from other cars? Why did we sell the Suzuki? What do we expect from our next car? All of the answers to those questions can be found in the blog post below.
What distinguishes the second generation of Suzuki Grand Vitara from other cars?
The second generation of Suzuki Grand Vitara is a very brave offroading vehicle. Of course, this is not a classic off-roader with a proper steel frame and two solid axles. Instead, it has been designed to perform well in a variety of scenarios. Maybe it can not cope with difficult terrains, like the Nissan Patrol, adored by many Poles, but it was enough for us when we decided to get off the road. In addition to that Suzuki is not a speed demon, and neither is it a big car. However, its versatility in everything was a great advantage for us, when we decided to buy this car around two years ago. Grand Vitara was also used for everyday driving around the city and due to the independent suspension, the car drove quite well (the ride did not resemble a cruise on a fishing boat).
If you are interested in reading more about this specific car model. Feel free to visit a dedicated post on our blog.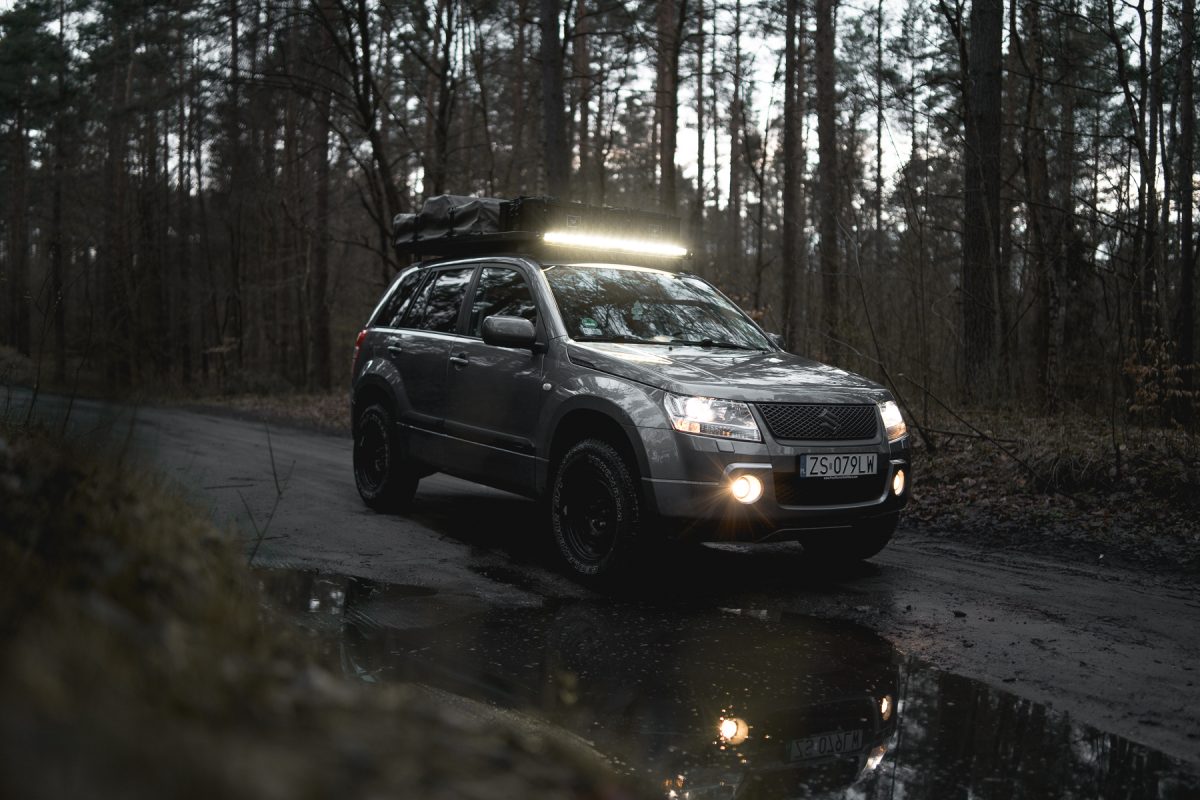 Why did we sell the Suzuki?
Along with moving to a big city like Hamburg, we didn't need two cars at the moment. Public transport is so well developed that the Nissan Juke with a small gasoline engine is enough for us. Hence, we see the second car as intended only for weekend trips outside the city and further trips to various parts of Europe (and who knows maybe further corners of the world). So the second car must meet all, or at least most of, our travel requirements.
What do we expect from our next car?
Maybe two years with one car is a relatively short time and we would still be driving it, if not for the fact that our requirements have evolved quite significantly during this time. First of all, it is supposed to be a car that we will enjoy for years, i.e. a great condition of the body and chassis at the time of purchase and unlimited modification options. We aim at a classic off-road construction with a limited amount of electronics, to minimize potential failures and having the possibility to repair the car anywhere in the world. In addition, we care about a classic look, we like angular cars with a soul. There are tons of available options, but we already have some interesting models to keep an eye on. Above that we want the car to have more space inside – perhaps we will decide on a sleeping platform inside, which is very useful in unfavourable conditions, but we also do not rule out another roof tent. We commented on this topic in one of the previous blog posts, here.
So… we are starting preparations for our next project! Companies interested in cooperation in the promotion of interesting locations or products related to the subject of the blog, please contact us via the e-mail address kontakt@offtheroad.pl