Old Man Emu 20 Suspension Lift
One of the initial Suzuki Grand Vitara 2 modifications was the installation of the Old Man Emu 20mm suspension kit, expertly crafted by ARB. This meticulously designed kit not only provides a suspension lift but also delivers a remarkable boost in driving comfort while greatly enhancing road grip. The result is an unparalleled driving experience that takes your adventures to the next level.
It is imperative to ensure that each component of the suspension kit is precisely tailored to your vehicle. Therefore, we highly recommend engaging the services of a specialized workshop that possesses extensive experience in customizing 4×4 vehicles. Their expertise will guarantee the seamless integration of the suspension kit into your Suzuki Grand Vitara, ensuring optimal performance, safety, and durability.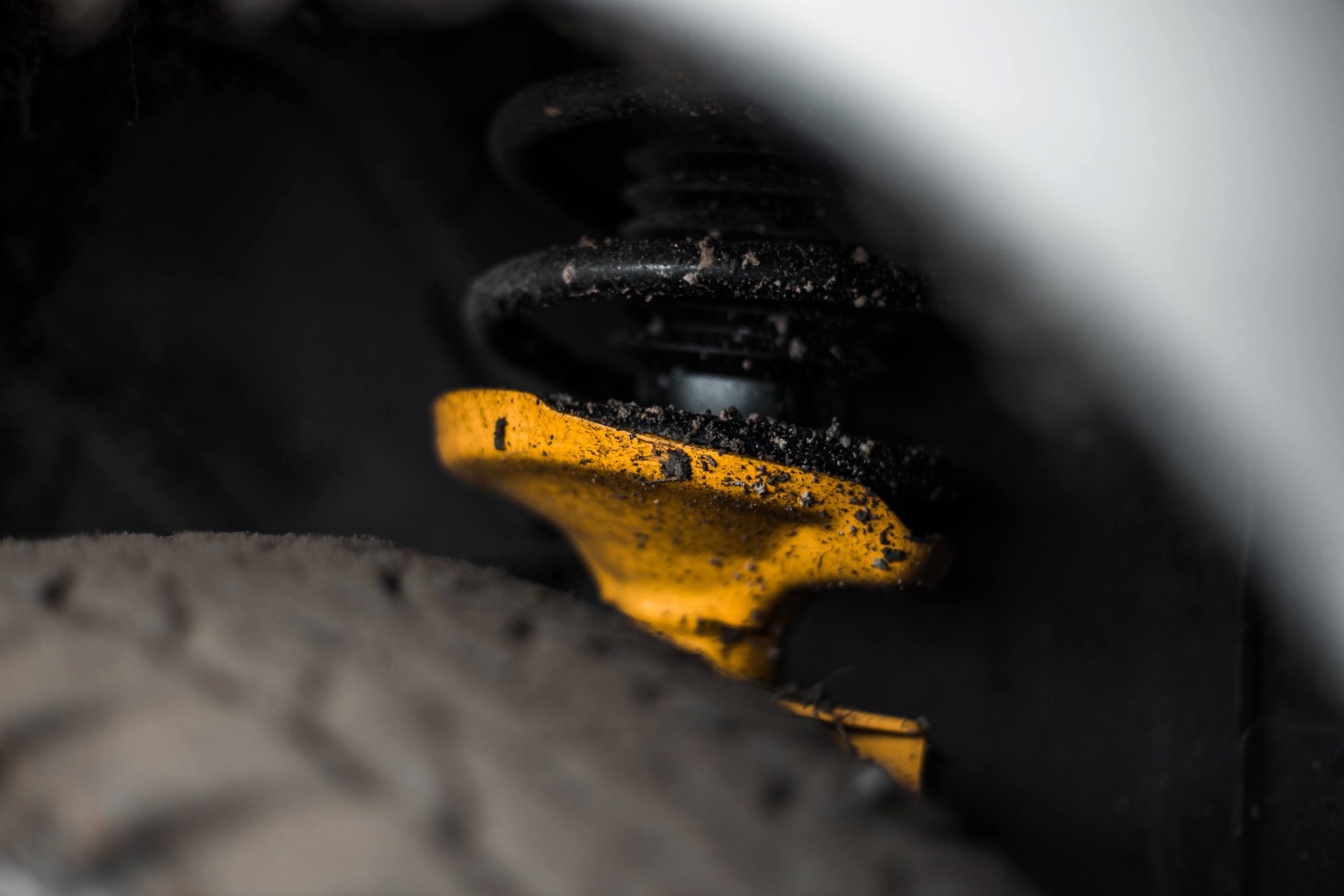 Yokohama Geolandar Tires A/T G015
In addition to the suspension upgrade, we carefully selected new tires to further enhance the capabilities of our Overlanding vehicle. After careful consideration, we opted for the Yokohama Geolandar A/T G015 in the size of 235/70/16, distinguished by its white inscriptions. These tires have proven to be an exceptional choice, offering a multitude of benefits and outstanding performance both on and off the road.
One notable advantage of the Yokohama Geolandar A/T G015 tires is their quiet operation, ensuring a peaceful and comfortable driving experience on various road surfaces. Moreover, their winter properties make them reliable companions in colder climates, providing great traction and stability on snow and ice-covered roads. Even on wet surfaces, these tires exhibit exceptional grip, delivering confidence-inspiring performance during rainy conditions.
However, it is important to note that in extremely muddy terrains, the Yokohama Geolandar A/T G015 tires may tend to accumulate mud quickly, requiring periodic cleaning. While this can be time-consuming, their overall performance and reliability outweigh this minor inconvenience.
Having traveled approximately 50,000 kilometers on these tires, we can honestly attest to their durability and recommend them without hesitation. The Yokohama Geolandar A/T G015 tires have consistently proven their reliability, longevity, and ability to meet the demands of diverse terrains and weather conditions.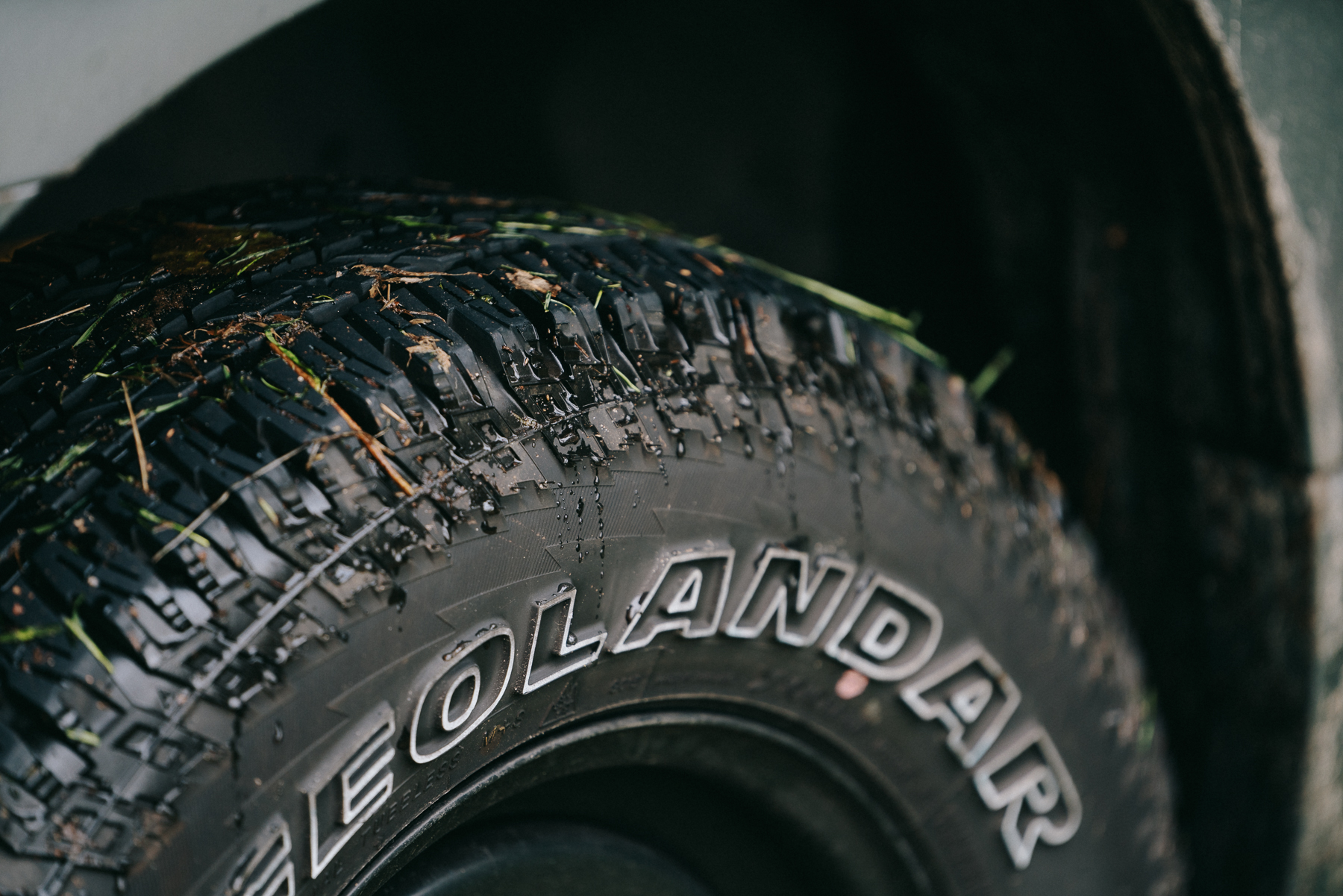 In addition to the set of new tires, we made another significant upgrade by acquiring the Dotz 7×16 steel rims, with a 5×114.3 bolt pattern and an ET+30 offset. These rims have not only enhanced the aesthetics of our vehicle but also delivered tangible benefits in terms of performance and functionality.
With the positive offset, the tires are positioned approximately 4 cm further outward compared to the original rims. This wider wheelbase not only improves the overall stability and handling of the vehicle but also contributes to a more aggressive and eye-catching appearance. The combination of the Yokohama Geolandar A/T G015 tires and the Dotz steel rims ensures a striking visual impact while maintaining exceptional performance on various terrains.
The decision to opt for steel rims from Dotz was carefully made to ensure durability and reliability in demanding off-road conditions. These rims are renowned for their strength and resistance to damage, making them well-suited for our overlanding adventures. The 7×16 size strikes a balance between sufficient tire sidewall height for off-road capability and the desired visual effect.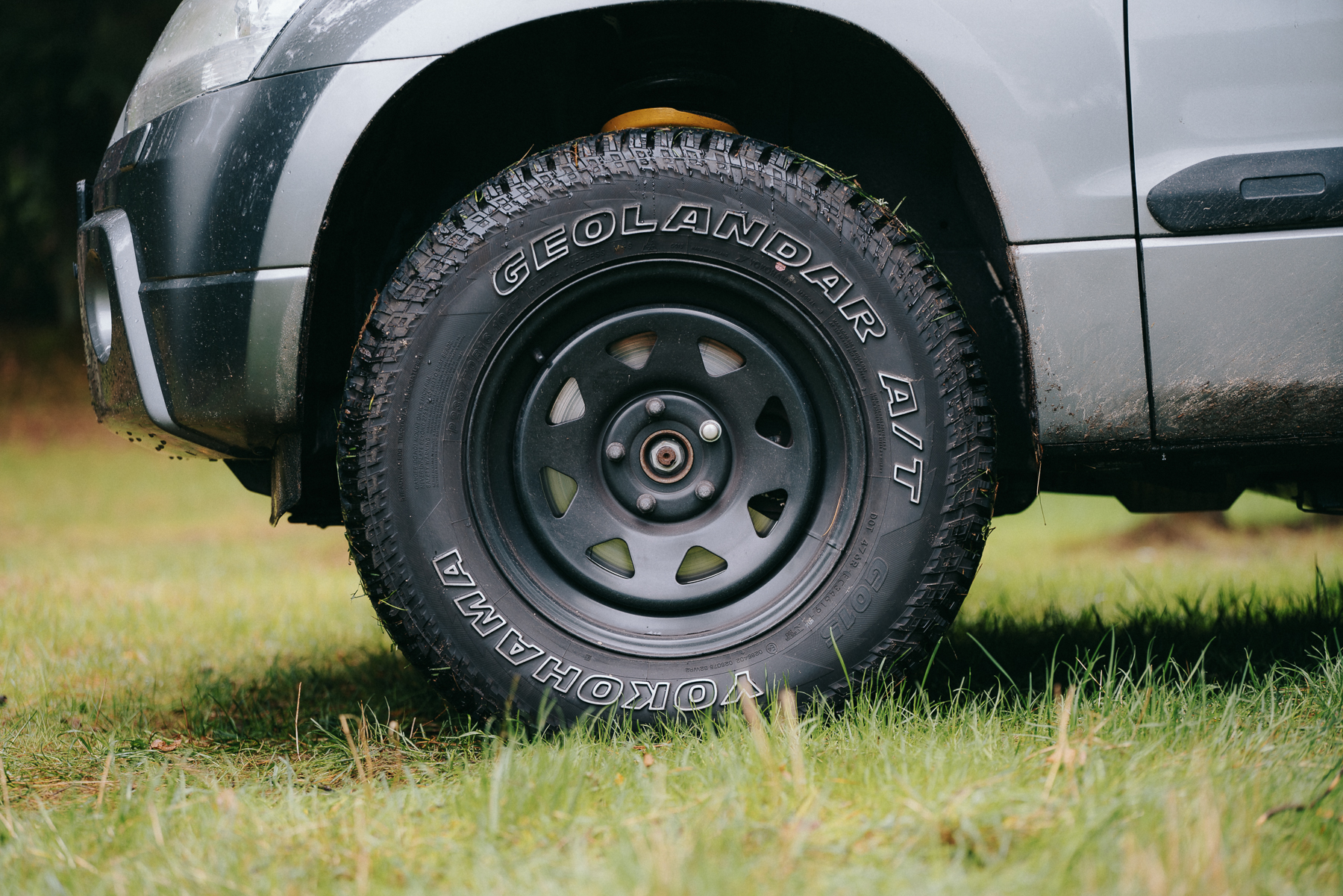 Front Runner Slimline II Roof Rack
Among our notable Suzuki Grand Vitara 2 modifications, a significant one was the installation of the Slimline II roof rack from the renowned South African company, Front Runner Outfitters. This carefully chosen roof rack not only enhances the visual appeal of our vehicle but also offers unparalleled versatility with the option to customize it further to suit our specific needs.
Its dimensions, measuring 1762 mm x 1255 mm, provide ample space for carrying essential equipment, luggage, and other adventure gear, ensuring we are well-prepared for our expeditions.
The package includes new roof rails that are a remarkable improvement over the original ones. These upgraded roof rails are not only flatter in design, contributing to the streamlined appearance of our vehicle, but they also offer a greater number of attachment points. This allows for secure and flexible mounting of various accessories, such as rooftop tents, storage containers, or additional lighting, to further enhance the functionality of our vehicle.
Recognizing the vulnerability of the gear reducer and radiator to potential damage, we understood the necessity of acquiring a reliable skid plate for our Grand Vitara. After careful consideration, we made the prudent choice of investing in a set of robust aluminum covers, measuring 6 mm in thickness. These meticulously designed covers are ingeniously engineered to seamlessly utilize the existing factory-made holes and threads within the vehicle frame, ensuring a secure and hassle-free installation process.
Undoubtedly, this modification stands as the pinnacle of our enhancements for the Suzuki Grand Vitara 2. By safeguarding the vital components from potential harm, the skid plate provides invaluable protection during off-road excursions and adventurous undertakings. Its sturdy construction, coupled with the precise fitment utilizing the vehicle's original infrastructure, guarantees not only enhanced durability but also reinforces the overall structural integrity of our Grand Vitara.
Osram FX1000-CB SM LED-BAR
The Front Runner Outfitters' FX1000-CB SM spotlight is an exceptional lighting solution, boasting a remarkable array of features and cutting-edge technology. This powerful spotlight is equipped with 40 durable, high-performance LEDs, leveraging the advanced OSRAM technology to deliver unparalleled illumination.
With an impressive brightness of 8,000 lumens, the FX1000-CB SM spotlight casts its radiance up to an astounding distance of 635 meters. This extensive reach ensures enhanced visibility and enables you to confidently navigate even the darkest and most challenging terrains, providing an unrivaled level of safety and control.
Furthermore, the FX1000-CB SM spotlight holds the prestigious ECE certificate, which permits its utilization as an additional headlamp on public roads. This certification underscores the spotlight's compliance with rigorous safety standards, granting you peace of mind and legal compliance during your on-road adventures.
Music undoubtedly adds a vibrant and captivating element to any memorable short trip. With this in mind, we approached the selection of our 2DIN radio with two key considerations in mind: exceptional sound quality and seamless integration with the Google Maps application on our mobile phone.
After thorough research and careful evaluation, we arrived at the conclusion that the Sony XAV-AX1000 is the perfect radio for our specific requirements. Its impressive audio capabilities ensure a truly immersive listening experience, delivering rich and crystal-clear sound reproduction that brings our favorite tracks to life.
Moreover, the Sony XAV-AX1000 radio offers seamless connectivity to Android mobile phones, providing us with effortless access to the Google Maps application. This invaluable feature enables us to navigate our routes with precision, ensuring we never lose our way and always arrive at our desired destinations efficiently and stress-free.
It is worth noting that the Sony XAV-AX1000 radio also caters to iOS iPhone users, as it can be easily connected to the iOS system. This versatility allows all users, regardless of their mobile phone preference, to benefit from the exceptional features and performance offered by this remarkable radio.